RACING THIS WEEK
FEATURES
SERVICES
Wyoming Downs will host the 1st annual Wyoming Downs All Breed Race-Bred Horse Sale on August 18.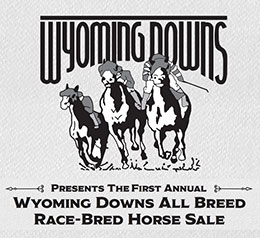 Wyoming Downs All Breed Race Bred Horse Sale Consignments Under Way
EVANSTON, WYŚMAY 21, 2018Ś
Wyoming Downs is currently receiving multiple consignments from owners for its first annual All Breed Race Bred sale. All breeds and horses from all states are welcome.
The sale will be conducted the last weekend of live-racing, Saturday, August 18, 2018, on site, at the track in Evanston, Wyoming.
The event will begin 30 minutes after the last race at approximately 5:30 PM; prime time for a great a crowd and buyers.
Consignments are being received through June 15. The consignment fee is $400.
Wyoming Downs owner Eric Nelson looks forward to making the sale the premier race-bred sale in the inter-mountain area.
"We have a lot of factors contributing to this being an excellent time to start an annual sales program. Wyoming has the lucrative Wyoming Breeders Awards, which paid out 1.7 million in awards money in 2017. We have the Wyoming Downs track schedule during the racing season and purses that are showing favorable growth over the last several years," Nelson said.
"We plan on the sale being an annual event so that owners, breeders and trainers can count on it for consistent and sufficient exposure for selling their horses. And, it will offer a very good selection of outstanding horses for buyers," he added.
All consignment forms can be downloaded by CLICKING HERE.
The catalogue is being produced by Sara Vaessen and will be available for download on June 30 at Wydowns.com/horse-sale.
Contact Jodi Lopez, Sale Manager, for any sale related questions: jlopez@wydowns.com, PH: 307-789-9000 and FAX: 307-789-0605.
Wyoming Downs is located at 10180 Highway 89 North in Evanston Wyoming, 82930.