RACING THIS WEEK
FEATURES
SERVICES
Hip 357 Its Jes Political is the high-seller for $175,000 through day two of the Heritage Place September Yearling Sale.

© Amanda Glidden / Plugged In Equine Marketing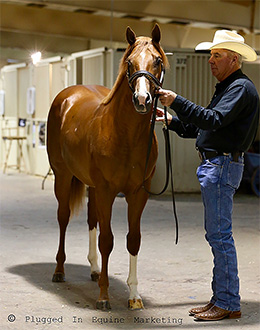 Increases Continue at Heritage Place September Yearling Sale
OKLAHOMA CITY, OK—SEPTEMBER 21, 2018—
Bullish trading continued to fuel the Heritage Place September Yearling Sale today as spirited bidding led to continued increases in key metrics, mirroring a trend that started with the earlier this summer in Louisiana.
"The rain did not stop them today, the second day average was $19,144 on the horses sold, up 11% over the same day last year and we sold 86% of them," Heritage Place General Manager Spence Kidney, said late Friday. "The first two days seem very solid with an average of $18,527 and having sold 88% of the horses offered, you have to feel good about the market."
Heritage Place reported 428 yearlings sold through Friday second session for $7,929,400, up 6% over the $7,451,400 total during the comparable session a year ago when 444 yearlings changed hands. The average rose 14% from $18,527 compared to $16,782 in 2017, and the median has increased 14% from $11,000 in 2017 to $12,500 this year.
An Apollitical Jess colt purchased by Jose Espinoza for $175,000 from the James Ranch, Agent for Walter R. Harrison consignment topped the second session and is the two-day leader.
Hip 357, Its Jes Political, is a brother to Oklahoma Derby winner Politicaly Correct and half-brother to stakes winner Brookestone Grey. Grade 3 winner Senorita Tres, by Tres Seis, is the dam.
The second-highest price of $90,000 was paid by Judd Kearl for Hip 420, an Apollitical Jess colt consigned by Lazy E Ranch, LLC Agent for Darling Farms, the colt is out of Mischievous Player, a Corona Cartel half-sister to world champion sire FDD Dynasty.
The third high-seller on Friday, Hip 347 Mr Perry Hock, is a son of champion and first-crop sale sire Kiss My Hocks consigned by Marty Powers, Agent for Flag Ranch LLC. La Feliz Montana Ranch, LLC paid $70,000 for the colt out of stakes-placed Mr Perrys Wine, a stakes producing sister to Grade 1 winner Time For Wine.
Dillon Lane continued in to day 2 as the sale's leading buyer with three purchases for $240,000. JGA Racing Stables Inc. paid $240,000 for five yearlings and Alejandro Castaneda purchased 10 head for $225,000.
Bobby D. Cox continued as the leading consignor or agent into to day 2 with 26 head grossing $772,500. Lazy E Ranch, LLC Agent for McColee Land & Livestock sold six yearlings for $361,000 and Lazy E Ranch, LLC Agent had 17 totaling $332,200.
Leading sire Apollitical Jess led all sires of yearlings (by average with two or more sold) with 13 head averaging $48,962. All-time leading living sire Corona Cartel had 14 for $44,692 and champion sire Tres Seis had 11 head average $43,045.
Champion and first-crop sale sire Kiss My Hocks had 20 yearlings average $25,250 and champion Hes Relentless sold 17 head for $21,441 average.
For preliminary results of Thursday's opening session, including hip-by-hip results, CLICK HERE.
* * * * * * *
The final session , Hips 523 thru 783, will get underway promptly at 10 a.m. (CDT) on Saturday.
A complete online version of the 2018 yearling catalog, including horse, consignor, sire and dam indexes, is available by CLICKING HERE.
Printed copies of catalog are available at the sale, as well as a downloadable iPad version is available on the RGP Catalog App.
The RGP Catalog App is available for both Apple and Android phones and tablets. A Catalog App tutorial can be viewed by CLICKING HERE.
The free RGP Catalog App can be downloaded from www.robinglenn.com or by searching for "RGP Catalog App" in the Apple App Store.
For additional sale information call the Heritage Place Sale Company at 405.682.4551 or visit www.heritageplace.com.
Preliminary sale results for all sessions can be found on StallioneSearch.com's SALE SECTION shortly after the close of each day's sale.