RACING THIS WEEK
FEATURES
SERVICES
Jose (Jesse) J. Espinoza paid $175,000 for Hip 357 Its Jes Poltical, a colt by Apollitical Jess from the Tres Seis mare Senorita Tres.

© Amanda Glidden / Plugged In Marketing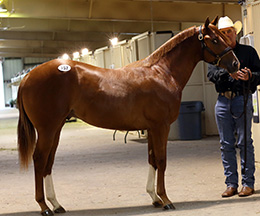 Double-Digit Increases Across The Board For 2018 Heritage Place Yearling Sale
OKLAHOMA CITY, OK—SEPTEMBER 21, 2018—
Heritage Place Sale Company enjoyed double-digit increases across the board at the just completed 2018 40th annual Heritage Place Yearling Sale in Oklahoma City.
"Saturday's final session saw an average of $18,253, a 24% increase over the same day last year and we sold 90% of the horses offered today," Heritage Place General Manager Spence Kidney said Saturday night.
Heritage Place reported 642 yearlings sold through the three-day sale for $11,730,900, up 13% over $10,384,400 total during the comparable sessions a year ago when seven more yearling were marked sold. The average rose 14% from $16,001 to $18,272 and the median increased 11% from $11,000 to $12,250. The sale's RNA rate was 11% on the 82 not sold. There were 54 outs from the 783 cataloged.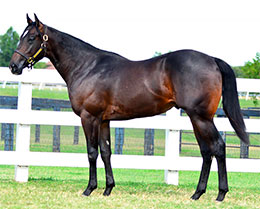 Donald Cavenaugh paid $170,000 for the second high-seller, Uncle D, a Corona Cartel colt out of Little Surfer by First Down Dash.
© Courtesy Lazy E Ranch
"We want to wish everyone continued success and thank you to all of the consignors and buyers for a tremendous yearling sale," Kidney added.
An Apollitical Jess colt purchased by Jose (Jesse) J. Espinoza for $175,000 from the James Ranch, Agent for Walter R. Harrison consignment topped the three-day sale in Friday's second session.
Hip 357, Its Jes Political, is a brother to Oklahoma Derby winner Politicaly Correct and half-brother to stakes winner Brookestone Grey. Grade 3 winner Senorita Tres, by Tres Seis, is the dam.
Lazy E Ranch, LLC Agent for McColee Land & Livestock consigned the second high-seller, Hip 699 Uncle D. Donald Cavenaugh paid $170,000 for the son of leading living sire Corona Cartel from the stakes winning First Down Dash mare Little Surfer. From the family of champions Ocean Runaway and Wave Carver, Uncle D is a full sibling to G1-placed Call Me Cole and stakes-placed G1-finalist Rip Tide.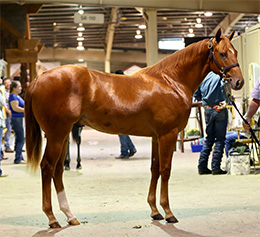 Dillon Lane paid $140,000 for the sales third-high seller, Hip 143 Analytix, a colt by Mr Jess Perry from All In The Jeans by Corona Cartel.
© Amanda Glidden / Plugged In Marketing
Dillon Lane purchased the third-high seller in Thursday's opening session for $140,000. Hip 143 Analytix, a
Mr Jess Perry
colt from the G1-placed
Corona Cartel
mare All N The Jeans was consigned by Bobby D. Cox. Analytix is a half-brother to stakes-placed Going Viral. Ruidoso Futurity (G1) winner All About Ease is the second dam.
Lane was the sale's leading buyer with four purchases grossing $360,000. Rachuan Suarez MVZ paid $342,000 for 25 head and Alejandro Castaneda purchased 16 yearlings totaling $301,900.
Bobby D. Cox was leading consignor at the September Yearling Sale with 41 head grossing $1,176,400. Lazy E Ranch, LLC Agent for McColee Land & Livestock sold nine head for $678,000 and Lazy E Ranch, LLC Agent had 28 yearlings total $553,900.
The industry's perianal top-three all-time leading sires were the top three sires of yearlings (by average, two or more sold) for the September Yearling Sale.
First Down Dash had two head average $70,000, Corona Cartel had 18 head for $48,250 and Mr Jess Perry saw 15 head average $43,800. 2018's leading sire of money earners Apollitical Jess had 17 yearlings average $43,618.
First-crop sale sire, champion Kiss My Hocks, sold 28 yearlings for $23,232 average and champion Hes Relentless had 25 head average $18,368.
For preliminary results for all three sessions, including hip-by-hip results, CLICK HERE.
* * * * * * *
For additional sale information call the Heritage Place Sale Company at 405.682.4551 or visit www.heritageplace.com.