RACING THIS WEEK
FEATURES
SERVICES
Hip 352 Cf Chickasaw Warrior SI 101, a $54,673 race earning son of leading sire race Pyc Paint Your Wagon, will sell in Session 4.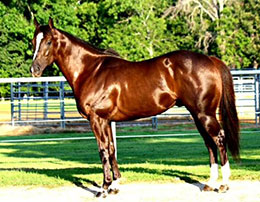 Triangle's Fall Sale Line-Up Features Speed-Breds At Third Annual Barrel Classic
SHAWNEE, OK— OCTOBER 22, 2018—
The 39th Triangle Fall Sale in Shawnee, Oklahoma will feature speed-breds in the 3rd Annual Barrel Classic Sale, October 26-27 at the Heart of Oklahoma Expo Center.
There will be 545 total lots to sell, including 180 barrel horses in Session 2 on Friday and Session 4 on Saturday.
During Session 2, Joe & Dee Lynn Braman's JB Quarter Horses from Refugio, Texas will have a "Hurricane Relief Dispersal", with 43 lots to sell absolute to the highest bidders.
The Reference Sire selling is Hip 209, Hot Corona, a race winner earning a speed index of 91. The 2002 brown stallion is by Corona Cartel and out of Dashing Idea (SI-101) by Dash For Cash. He is also a full brother to Corona Coquette (SI-106) with earnings of $245,986.
The Triangle Fall Sale will include four embryos out of outstanding barrel mares and sired by Dash Ta Fame – the all-time leading barrel sire. There are also 67 barrel-bred yearlings which are eligible for the Triangle Sales John Read Foster Challenge, which has a minimum purse of $20,000 for the two highest advancing graduates in the BFA Juvenile Futurity in 2020.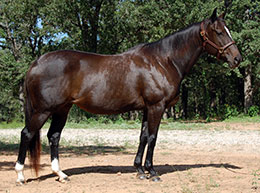 All American Derby(G1) finalist Feature For You by leading sire
Feature Mr Jess
will sell as Hip 192.
© Courtesy Triangle Sales
During Session 4 on Saturday, October 27, there will be 56 barrel horses under saddle, 2-years and up, selling.
Also featured in Session 4 is the Gary Hess/Doug Chaney Complete Dispersal from Sallisaw, Oklahoma. There are 23 lots including Hip 352, CF Chickasaw Warrior (SI-101), earner of $54,673 on the track. The 2009 brown stallion is by Pyc Paint Your Wagon and out of the Shazoom mare, Ohares Secret.
Triangle Fall Sale buyers can expect to see yearlings by leading barrel sires such as Frenchmans Guy and A Streak Of Fling, but also a group of cross-over prospects by race sires including Stoli, Woodbridge, Mighty B Valiant, Dash Master Jess and Lotta Pyc.
There are broodmares in foal to leading barrel sires which include daughters of Martha Six Moons, Captain Courage, Dash Ta Fame, Freighttrain B, On A High, Magic Dozen and Cassidy Casanova.
To highlight just a couple of the really nice mares which will sell—
Hip 192 - Feature For You (SI-97), is a 2004 bay mare by Feature Mr Jess, the earner of $45,532, a multiple grade 1 finalist and producer. She is in foal to Eddie Stinson for 2019. Hip 344, Bye Bye Rayburn, by Dashin Bye (SI-106), is a 2006 brown mare, the earner of $84,854, a proven producer and is bred to CF Chickasaw Warrior.

Hip 380, Lil Touchafame, is by Dash Ta Fame (SI-113). The 2003 gray mare has a barrel racing record and is also bred to CF Chickasaw Warrior. There are two mares out of the Blue Hen family of Ester's Klu and Ester's Little Bunny, a family full of Champions on the track and in the arena including All-Time Leading Money Earner, Ochoa, and World Champion Barrel Horse, FM Radio.

Hip 180, Captain Drama and Hip 245, Mugaruth, sell along with their yearling prospects.

In addition to the excellent lineup of speed and barrel-bred horses, the Triangle Fall Sale will feature 147 cutting horses and the Shawnee Session of Ranchers, Reiners, Riders, and Ropers including 118 performance geldings to sell under saddle.

CLICK HEREj toview the sale catalog and sale schedule.