RACING THIS WEEK
FEATURES
SERVICES
Consignments are due July 1 for the 19th annual QHRAI Speed Sale in Indianapolis, Indiana.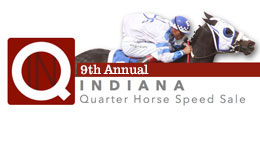 QHRAI Speed Sale Set September 15, Consignments Due July 1
INDIANAPOLIS, IN—FEBRUARY 26, 2019—
The 9th annual QHRAI Speed Sale has been set for Sunday, September 15th at the Marion County Fairgrounds in Indianapolis, Indiana.
Weanlings, yearlings, 2-year-olds, horses of racing age, barrel prospects and broodmares may be consigned to the 2019 sale. The consignment deadline is Monday, July 1. Consignment forms are available upon request.
Limited to 50 head, Indiana-bred yearlings will have first preference followed by horses of racing age.
Past sale graduates included such stakes horses as WH Design By Dash ($432,273), Stone Cold Leader ($426,333), Wh Kenny G ($264,128) and My Louisiana Red ($220,045) to name only a few.
For additional information or consignment forms call Vick Conway at 765.748.6806 or visit the association's website at indianaquarterhorseracing.com.