RACING THIS WEEK
FEATURES
SERVICES
Consignments to the 2019 Heritage Place September Yearling Sale are due Friday, June 14.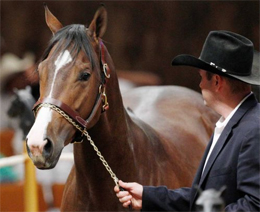 Heritage Place Quarter Horse Yearling Consignment Deadline June 14
OKLAHOMA CITY, OK—MAY 30, 2019—
Consignment forms are due Friday, June 14 for the 41st Annual Heritage Place Quarter Horse Yearling Sale. The industry's largest Quarter Horse Yearling sale will be held September 19th and 20th in Oklahoma City.
"Last year we had a great catalog of yearlings and due to the tremendous success that we have seen from buyers and consignors over the past years, we are very excited about this year's Heritage Place Quarter Horse Yearling Sale," General Manger Spence Kidney said.
The 2019 Heritage Place Yearling Sale will feature a total of 650 head and all horses will be stalled inside (no tents or temporary stalls).
Heritage Place will continue to offer two great opportunities to sell yearling race prospects.
Additional yearlings will be featured in the yearling session of the Fall Mixed Sale, November 1st and 2nd. Again with all horses will be stalled inside the main barn at Heritage Place.
The new two-day September schedule will allow owners and trainers to attend the Dash For Cash Futurity trials, which has been a scheduling conflict and concern for several years now, on Saturday, September 20th at Lone Star Park following the sale,
The Fall Mixed Sale will kick off with a "Yearling Session" featuring Quarter Horses, Paint, Appaloosa and Thoroughbred race prospects, followed by a "Mixed Session" to complete the November sale.
"We remain committed to offer the best place in the world to sell horses and hope that these adjustments will enhance the customer experience and maximize the marketing of the consignments," Kidney said.
CLICK HERE to download a consignment form for the 2019 Heritage Place September Yearling Sale.
* * * * * * * * * * *
On Saturday Remington Park will host the running of the richest race in Oklahoma, the Grade 1 $1,073,100 Heritage Place Futurity, Grade 2 367,750 Heritage Place Derby and the $100,000-Guaranteed Heritage Place Juvenile Invitational.
Horsemen and women can keep up with the impressive list of Heritage Place Sale Graduates by CLICKING HERE. The list is quite lengthy and continues to grow throughout the racing season.
For more information on Heritage Place's upcoming sales, visit the company's website at heritagepalce.com or for assistance with consignments call the sale company at 405.682.4551.