RACING THIS WEEK
FEATURES
SERVICES
The 2019 QHRAI Speed Sale Catalog is now available online.

© Catalog Cover by Coady Photography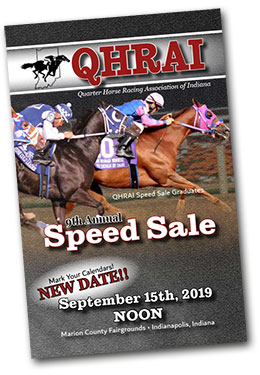 2019 QHRAI Speed Sale Catalog Available Online
INDIANAPOLIS, IN—AUGUST 6, 2019—
The online version of the upcoming 9th annual QHRAI Speed Sale catalog is now available.
The 9th annual sale will be held Sunday, September 15th at the Marion County Fairgrouds in Indianapolis, Indiana. The sale, featuring 45 yearlings, broodmares and horse of racing age, will get underway at noon (CDT).
CLICK HERE to download an online version of the sale catalog.
Printed copies of the sale catalog are in the mail.
For additional information call Vicki Conway at (765) 748-6806 or visit the association website at indianaquarterhorseracing.com and click the "Speed Sale" tab.