RACING THIS WEEK
FEATURES
SERVICES
The 2019 Los Alamitos Equine Sale catalog is now available online.

© Cover race photos by Scott Martinez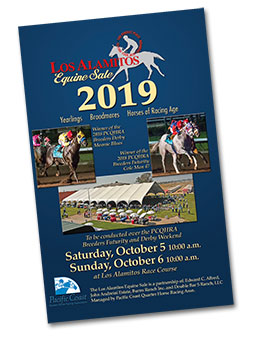 Los Alamitos Equine Sale Catalog Available Online
EL RENO, OK—AUGUST 20, 2019—
Robin Glenn Pedigrees, Inc. announced today the 2019 Los Alamitos Equine Sale catalog is now available online. The two-day sale, featuring 361 head of Quarter Horse yearlings, horses of racing age and broodmares, will be held October 5-6 at Los Alamitos Race Course.
CLICK HERE to view the complete catalog and indexes.
Horses will be available for viewing on Thursday, October 3rd and Friday, October 4th. The sale will start promptly at 10 a.m. (PDT) Saturday and Sunday, October 5th and 6th.
Los Alamitos Race Course will host the $175,000-est. PCQHRA Breeders' Derby on Friday, October 4th and the $400,000-est. PCQHRA Breeders' Futurity on Saturday, October 6th.
Printed copies of catalog will be mailed shortly as well as a downloadable iPad version is currently available on the RGP Catalog App.
The RGP Catalog App is available for both Apple and Android phones and tablets. A Catalog App tutorial can be viewed by CLICKING HERE.
The free RGP Catalog App can be downloaded from www.robinglenn.com or by searching for "RGP Catalog App" in the Apple App Store.
The Pacific Coast Quarter Horse Racing Association manages the Los Alamitos Equine Sale. For more information call PCQHRA at 714-236-1755.