RACING THIS WEEK
FEATURES
SERVICES
The 2019 Return to the Remuda Sale Catalog is now available on-line.

© Cover photo 6666 Ranch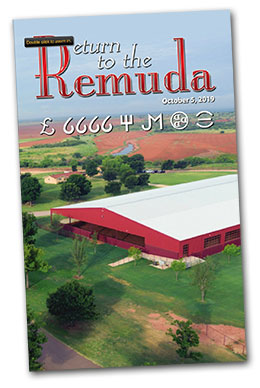 2019 Return to the Remuda Sale Catalog Now On-line
GUTHRIE, TX— SEPTEMBER 6, 2019—
The Four Sixes Ranch in Guthrie, Texas, will host the 2019 Return to the Remuda Sale October 4-5, 2019. This annual event includes historic ranches Beggs Cattle Company, Four Sixes Ranch, Pitchfork Cattle Company and Tongue River Ranch along with guest consignors W. T. Waggoner Estate and Wagonhound Land & Livestock.
This year's event will feature some of the industry's finest bloodlines with success in cutting, reining, reined cow horse, roping, barrel racing and ranch horse competitions. The sale will offer more 169 head of quality horses that range in age and includes weanlings, yearlings, 2-year-olds, fillies and stallion prospects.
Those not in the market to purchase a horse will still find items of interest. To support the American Quarter Horse Foundation, a benefit auction will be held in conjunction with the Return to the Remuda Sale. The American Quarter Horse Foundation Benefit Auction will include numerous ranch-type memorabilia and the proceeds will benefit the American Quarter Horse Foundation programs which support equine research, America's Horse Care Therapeutic Riding and the American Quarter Horse Hall of Fame & Museum.
Make plans now to be in Guthrie, Texas, at the Four Sixes Ranch October 4-5 for the opportunity to purchase horses that carry historic brands and outstanding bloodlines at the Return to the Remuda Sale.
CLICK HERE to download the on-line catalog from Four Sixes Ranch website.