RACING THIS WEEK
FEATURES
SERVICES
The 2019 Return to the Remuda Demonstration and Sale will be available to view live via webcast.

© 6666 Ranch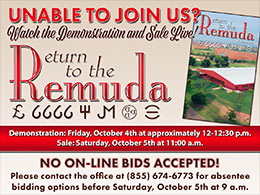 Watch the Return to the Remuda Demonstration and Sale On-Line
GUTHRIE, TX—OCTOBER 2, 2019—
Horsemen and women who are unable to attend the Return to the Remuda Sale at 6666 Ranch Friday and Saturday are encouraged to watch the demonstration and sale live via webcast.
The demonstration will get underway Friday, October 4th at approximately 12 to 12:30 p.m. (CDT) and the sale will start promptly at 11 a.m. Saturday, October 5th.
No on-line bids are accepted, horsemen and women who area unable to attend and want to bid are asked to contact the office at (855) 674-6773 for absentee bidding options before Saturday (Oct. 5) at 9 a.m.
View Live Web Cast via Four Sixes Ranch Web site CLICK HERE.
View Live Web Cast via Four Sixes Ranch YouTube Channel CLICK HERE/a>.

For an on-line catalog to the 2019 sale CLICK HERE.

A downloadable iPad version is currently available on the RGP Catalog App.

The RGP Catalog App is available for both Apple and Android phones and tablets. A Catalog App tutorial can be viewed by CLICKING HERE.

The free RGP Catalog App can be downloaded from www.robinglenn.com or by searching for "RGP Catalog App" in the Apple App Store.

For additional information contact 6666 Ranch at (855) 674-6773 or (806) 596-4424 or visit the ranch website at 6666.ranch.com.