RACING THIS WEEK
FEATURES
SERVICES
Consignment forms for the 2020 Ruidoso summer sales have been mailed to consignors.

© Courtesy Speedhorse Magazine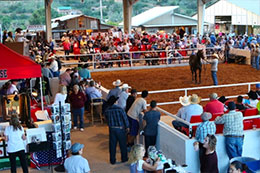 2020 Ruidoso Summer Sale Consignments Forms Now Available
RUIDOSO DOWNS, NM—MARCH 25, 2020—
Consignment forms for the All-American Ruidoso Horse Sales, LLC's 2020 summer sales have been mailed to consignors and are now available on the company's website.
The 2020 New Mexico-Bred Quarter Horse-Thoroughbred and Open Thoroughbred Yearling Sale will be held August 21-22, the Ruidoso Select Foal-In-Utero Sale will be held August 22 and the industry's premier yearling sale, the Ruidoso Select Yearling Sale has been set for September 4 thru 6.
Consignment deadline for each sale are:
2020 New Mexico-Bred QH-TB and Open TB Yearlings – May 1
2020 Select QH Foals-In-Utero – May 15
2020 Select QH Yearlings – May 15
CLICK HERE to download consignments forms and consignor contracts for each of these sale.
Completed and signed consignment forms and consignor contracts should me mailed on or before the deadline date to: PO Box 909, Ruidoso, NM 88345 or via Federal Express or UPS to 100 N. Joe Welch, Ruidoso Downs, NM 88346.
For additional information visit the company's website at raceruidoso.com/Ruidoso-select-yearling-sale or call 575.378.4474.