RACING THIS WEEK
FEATURES
SERVICES
Heritage Place Sale Company announced today they now provide an online bidding option for buying horses at their sales.

© Amanda Glidden / Plugged In Marketing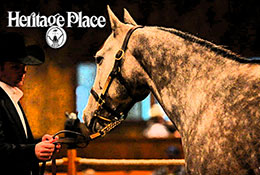 Heritage Place Sales Company Adds Online Bidding To The Options For Buying Horses At Future Sales
OKLAHOMA CITY, OK—APRIL 22, 2020—
Heritage Place remains committed to provide the best market place for racing American Quarter Horses in the world.
The company is pleased to announce that online bidding will be available as an option for bidding on horses beginning with the 2020 Quarter Horse Yearling Sale scheduled for September 25th & 26th.
The online bidding platform will allow pre-approved buyers to bid, buy and participate in the auction at their convenience and location.
"It is imperative that we do everything possible to bring buyers and sellers together to facilitate a market for our industry and this is another tool that will assist with doing that," Heritage Place said in a press release today.
Heritage Place Sale Company will provide additional details in the next few weeks on the pre-approval process for bidders and as always our staff will be available to answer questions and walk through the process with you.