RACING THIS WEEK
FEATURES
SERVICES
TQHA's 2020 Yearling Sale will be held on July 24 and 25 at the Freeman in San Antonio, Texas.

© TRACK Magazine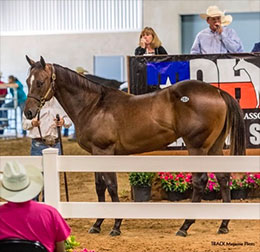 TQHA Yearling Sale To Return To Two-Day Format
ELGIN, TX—MAY 29, 2020—
TQHA officials announced today their annual yearling sale that had been reduced to only one day for 2020 will again be a two-day event scheduled for Friday, July 24 and Saturday, July 25.
"With the imminent opening of Retama Park TQHA will go back to standard 2 day format," TQHA Executive Director Val Clark said today.
More than 240 yearlings are expected to offered during the nation's first yearling sale of year, held in the climate controlled comfort of the Exposition Hall at the Freeman in San Antonio, Texas.
All Texas-bred yearlings selling in the sale are eligible for the 2021 $400,000-est. TQHA Sale Futurity(RG2) (must pass through sale ring).
For additional information visit the association's website at tqha.com for call 512.458.5202.