RACING THIS WEEK
FEATURES
SERVICES
The 2020 TQHA Sale will be held July 24-25 in the Exposition Hall at The Freeman in San Antonio, Texas.

© Cover Photos by TRACK Magazine / Regina Hadlock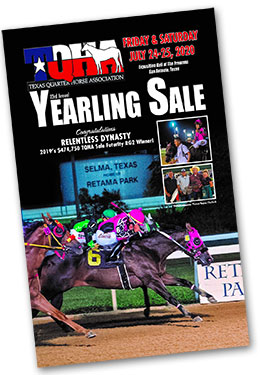 Complete TQHA Yearling Sale Catalog Available Online
ELGIN, TX—JUNE 15, 2020—
The 2020 TQHA Sale catalog is now available on line. Horsemen and women can
CLICK HERE
to download a copy.
The 23rd annual sale will be held July 24 and 25 in the Exposition Hall at The Freeman in San Antonio, Texas. The sale will start promptly at 10:30 am each day.
"The catalog is at the printer and will drop in the mail this month," TQHA Executive Director Val Clark said. "TQHA members will receive a catalog automatically. Nonmembers can give us a call," she added.
The 2020 TQHA Sale catalog is also be available through the RGP Catalog App. For additional information CLICK HERE.
Sale activities will kick off Thursday evening (July 23) at 4:00 p.m. (CDT) with a free consignor and buyer BBQ sponsored by the Cox Ranch and Granada Farms. Beverages will be sponsored by Tyler Graham.
Hips 1 thru 120 will sale on Friday (July 24) followed by the Texas Summer Showdown for Texas Bred's at Retama Park. First post is set for 6:45 p.m.
On Saturday (July 25), hips 121 thru 241 will be offered. Saturday night Retama Park will host the TQHA Sale Futurity(RG3). First post is 6:45 p.m.
All yearlings selling in this sale are eligible for the 2021 TQHA Sale Futurity(RG3). Horses must pass through the sale ring.
The Hilton San Antonio Airport, 611 NW Loop 140, San Antonio, TX 78216 will again be the 2020 host hotel. A horseman's race of $105 per night has been secured. To make an online reservation CLICK HERE or call the hotel directly between 8 am and 6 p.m. at 210-340-6060.
Consignors are reminded of the Mandatory EVH-1 REQUIREMENTS. If not met, horse will be asked to leave the grounds & will not be allowed to go through the sale ring. There will be no consignment refund.
For additional information contact Rob Werstler at 512.458-5202 or visit www.tqha.com.