RACING THIS WEEK
FEATURES
SERVICES
Consignments are due Saturday (July 25) for the 10th annual QHRAI Speed Sale.

© Coady Photography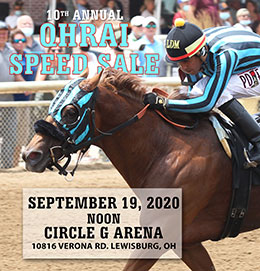 Consignment Deadline Saturday For 10th Annual QHRAI Speed Sale
PLYMOUTH, IN—JULY 20, 2020—
Consignments for the 10th annual QHRAI Speed Sale are due Saturday, July 25th. The 2020 sale will be held Saturday, September 19th at a new location—the Circle G Arena in Lewisburg, Ohio.
The sale, for weanlings, yearlings, horses-of-racing age, barrel prospects and broodmares, will be limited to 50 head. CLICK HERE to download a consignment form.
Indiana-bred yearlings will have first preference followed by horses-of-racing age. A $5,000 bonus will be paid to the consignor of the sale graduate that earns the most money racing in Indiana in 2021.
A Speed Horse Stakes, for 2-year-olds be offered in 2021, will be exclusively for horses that go through the OQHRA Speed Sale ring. (QHRAI reserves the right to cancel races).
For more information, consignment forms or sale catalogs visit indianaquarterhorseracing or call Vick Conway (765-748-6806), Chris Duke (317-474-0088) or Ronda Casey (574-930-6406).