RACING THIS WEEK
FEATURES
SERVICES
Rachuan Suarez paid $100,000 for Friday's high-seller, Hip #88 Triumpf, a colt by leading sire Tempting Dash from the Bobby D. Cox consignment.

© Courtesy LEA / Cox Ranch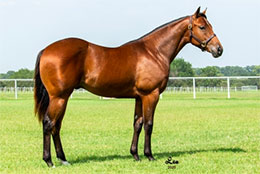 Despite Covid-19 Worries 2020 TQHA Yearling Sale Opener Is One Of The Best
SAN ANTONIO, TX—JULY 24, 2020—
Despite COVID-19 precautions the 2020 TQHA Yearling Sale opener today (Friday) at the Exposition Hall at the Freeman in San Antonio was one of the association's best ever.
"We were very pleased with the results at today's sale – especially with all of the challenges we had to overcome due to COVID-19 restrictions," TQHA Executive Director Val Clark said Friday evening. "The overall atmosphere was very positive with buyers and consignors. Great first day!".
Friday's first session saw 77 Texas-bred yearlings sell for $1,345,800. Even with 19 head less horses it was a slight uptick from the 96 head that grossed $1,327,000 on Day-1 last year.
However, the opening day 2020 average enjoyed a 34% increase to $17,254 compared to last year's $13,823. The 2020 median rose 25% on Day-1from $7,500 in 2019 to $10,000 this year.
This year is the first time the TQHA has used an online bidding site for four their annual yearling sale.
"I was quite happy with how many people registered to bid online and how many bidders we had from the web today," Clark said.
Bobby D. Cox was the opening day leading consignor with his consignments taking the top-four high-seller positions today (Friday). The three high-sellers were purchased by the sale's opening day leading buyer Rachuan Suarez.
Hip #88, Triumpf by Tempting Dash, was the Day-1 high-seller for $100,000. The bay colt is from the first crop out of RG1-winner Jessa Louisiana Zoom by Jess Louisiana Blue. The third dam is four-time champion filly Corona Cash, a sister to leading sire Valiant Hero and half-sister to leading sire Corona Cartel.
A colt by a leading second-crop sire Kiss My Hocks, Hip 70 Konfidential, was the second high-seller for $75,000. The brown colt is out of the TQHA Sale Futurity(RG2) winner Grey Daze by Captain Courage. The second dam is a half-sister to Sam Houston Derby(G2) winner Si Puede.
Hip #100, the Tempting Dash filly Tympest, brought a final bid of $68,000. The sorrel filly is a half-sister to 2020 Rainbow Futurity(G1) winner Whistle Stop Cafe. Out of the multiple stakes producing Mr Jess Perry mare Sinuous, Tympest is a half-sister to six blacktype. This is the family of champions Brimmerton.
Suarez signed the ticket on six yearlings today for a gross of $282,000. Mireya Castro Villarreal purchased seven yearlings for $66,000 and Alejandro Castaneda had five purchases for $59,900.
Bobby D. Cox's 10 head selling on Friday grossed $460,000. Granada Farms Agent, sold four yearling for $80,000 and Fulton Quien Sabe Ranches, LP had one for $55,000.
Champion Tempting Dash, a leading sire of 2020 money earners, led the first day yearling sire average (with two or more sold) with five yearlings averaging $45,400. Champion Kiss My Hocks had four average $44,750 and leading sire Mr Jess Perry had two for $43,000.
For preliminary results of Day-1, including hip-by-hip prices, CLICK HERE.
* * * * * * *
The closing session (Day 2) will get underway promptly at 10:30 a.m., offering Hips 121 through 241.
Online buyers must be pre-registered. CLICK HERE to go to the online sale website. For online sale information call Superior Productions at (800) 431-4452.
CLICK HERE to view the 2020 TQHA Yearling Sale Catalog online.
Preliminary sale results for the complete sale will be available int eh Auction Leaders section on stallioneSearch.com as soon as they are available Saturday afternoon.
For addition information visit the association website at tqha.com or call (512) 458-5202.