RACING THIS WEEK
FEATURES
SERVICES
Ruidoso Horse Sale Company will would be conducted a 3-day sale event held August 27 thru 29 at the Lazy E Arena in Guthrie, Oklahoma.

© Courtesy All American Ruidoso Horse Sales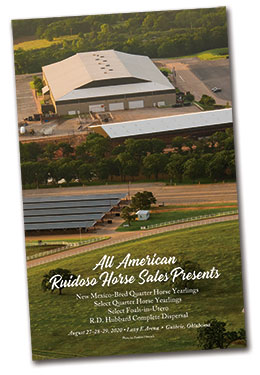 Ruidoso Summer Sale Catalog Available Online
RUIDOSO DOWNS, NM—JULY 31, 2020—
The online version of the upcoming 2020 Ruidoso Horse Sales is now available. Horsemen and women can
CLICK HERE
to view a complete list of consignments or download the complete catalog.
Due to COVID-19 restrictions in New Mexico the All American Ruidoso Horse Sale Company announced last month they would be combining all of their August sales, the New Mexico Bred QH Yearlings, Select Foals-In-Utero, Select Quarter Horse Yearling and the R.D. Hubbard Complete Dispersal, into a 3-day event to be held August 27 thru 29 at the Lazy E Arena in Guthrie, Oklahoma.
The sale will start promptly at noon (CDT) each day.
Schedule of events:
Thursday, August 27
NM Bred QH Yearlings: Hips 1-151
Friday, August 28
Select QH Yearlings Hips 152-345
Select Foals-In-Utero: Hips 346-364
R.D. Hubbard Dispersal: Hips 365-387
Saturday, August 29
Select QH Yearlings Hips 388-610
R.D. Hubbard Dispersal: Hips 611-615
The industry's leading yearling sale grossed more than $17 million and averaged over $49,600 per head in 2019.
The complete yearling catalog, including horse, consignor, sire and dam indexes, is also available through the RGP Catalog App for iPad, iPhone, Android phones and Android tablets. To download the RGP Catalog App visit the Apple App Store or Google Play.
An RGP Catalog App online teaching tutorial can be found here.
Hardcopies of the catalog will be mailed shortly.
For additional sale information call the Ruidoso Horse Sale Company at 575.378.4474.