RACING THIS WEEK
FEATURES
SERVICES
Reliance Ranches, LLC paid $265,000 for Hip #286 Absolute Favorite, a Favorite Cartel filly consigned by Burns Ranch, Agent.

© StalioneSearch / Greg Thompson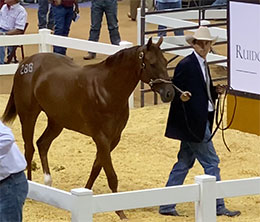 Ruidoso Select Yearling Opening Session Posts Increases, Absolute Favorite Sale Topper For $265,000
RUIDOSO HORSE SALE—AUGUST 29, 2020—
The Ruidoso Select Yearling Sale opening session, held at the Lazy E Arena in Guthrie, Oklahoma Friday (Aug 28), posted across-the-board gains compared to opening numbers of the 2019 sale in Ruidoso last year.
The average and median both increased compared to last year, even with a larger number of horses selling in the opening session. The 2020 Ruidoso Select Yearlings are selling in two sessions instead of three this year due to the COVID-19 Pandemic that caused the sale company to combine their two annual sales into one three-day event in Oklahoma.
For the opening "Select Yearling" session, 154 for the 177 offered sold for a total of $7,112,500. The average this year was $46,185, up 10% from last year's $41,349 first session. The median rose 11% to $35,500 compared to $31,500 on night-one of 2019.
Reliance Ranches, LLC paid $265,000 for the opening session sale-topper, Hip #286 Absolute Favorite. Burns Ranch, Agent consigned the daughter of 2020 leading sire of money earners Favorite Cartel from the blue-hen Strawfly Special mare Babe On The Beach. The chestnut filly is a full or half-sibling to 12 blacktype including Grade 1 winners Rock You and Little Talks.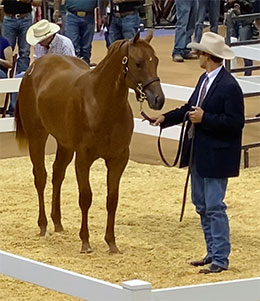 Johnny Trotter paid $165,000 for Friday's second high-seller, Wasp, consigned by Robicheaux Ranch, Inc., Agent for Simmons Racing.
© Greg Thompson / StallioneSearch
Johnny Trottter paid $165,000 for Friday's second high-seller, Hip #270 Wasp. The colt by
Favorite Cartel
, from the
Mr Jess Perry
mare First Prize Honey, was consigned by
Robicheaux Ranch, Inc., Agent for Simmons Racing. A half-brother to two blacktype, Wasp is from the family of all-time leading sire
First Down Dash
.
Friday's third high-seller, Hip #293 False Identity, another colt by Favorite Cartel, was purchased for $160,00 by Reliance Ranches, LLC. Burns Ranch, Agent consigned the half-brother to AQHA Racing Champion Aged Mare Quirky. The second dam, RG1-placed Ynot Ba, is the dam of Los Alamitos Winter Derby(G1) winner Ynot Walk.
Reliance Ranches LLC led all buyers in the opening Select Yearling session with six purchases grossing $724,000. Rachuan Suarez paid $639,000 for 20 head and La Feliz Montana Ranch LLC signed five tickets totaling $435,000.
Burns Ranch, Agent led consignors and agents in the opening session with 12 head for $848,500. Lazy E Ranch, Agent for McColee Land & Livestock, LLC sold 10 head for $722,000 and Lazy E Ranch, Agent sold 17 head for $713,500.
Favorite Cartel was the opening session leading sire (by average, two or more sold) with 10 head averaging $97,200. Corona Cartel sold 11 for an $71,909 average and Tempting Dash had five yearlings average $65,100. A Revenant was the leading first-crop sale sire with 10 for a $22,300 average.
CLICK HERE for preliminary day 1 results with hip-by-hip prices.
* * * * * * * *
Saturday's sale kicks off promptly at noon (CDT) with the second session of "Select Yearlings", Hips 388 thru 610, followed by the closing session of the R.D. Hubbard Complete Dispersal, Hips 611 thru 615.
Horsemen and women can CLICK HERE to view a complete list of consignments or download the complete catalog.
To watch live streaming of the sale online CLICK HERE.
The complete yearling catalog, including horse, consignor, sire and dam indexes, is also available through the RGP Catalog App for iPad, iPhone, Android phones and Android tablets. To download the RGP Catalog App visit the Apple App Store or Google Play.
An RGP Catalog App online teaching tutorial can be found here.
For additional sale information or to contact the sale office call 575-378-4474 or visit the sale company's website at rudiososelectyearlingsale.com