RACING THIS WEEK
FEATURES
SERVICES
Bob Moore Farms released its annual online Heritage Place September yearling Sale preview featuring photos and catalog pages of fifteen consignments.

© Plugged In Equine Marketing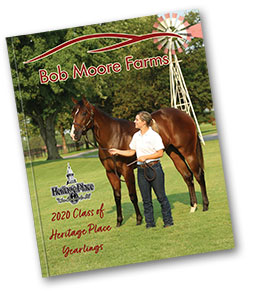 Bob Moore Farms Announces Heritage Yearling Sale Preview
NORMAN, OK—SEPTEMBER 4, 2020—
Bob Moore Farms
is pleased to announce the release of their annual online yearling preview featuring photos and catalog pages of fifteen Heritage Place yearlings Bob Moore Farms will represent during the September 25-26 sale in Oklahoma City.
"In today's mobile inclined world, keeping advertising and marketing techniques fresh and engaging can be a challenge, Said farm manager Phillip Stewart, "Enhancing our advertising efforts to include social media, print and online outlets provides the best possible promotion for our consignors," "The online preview of yearlings gives potential buyers a sneak peek prior to the sale in an interactive way."
CLICK HERE to preview the 2020 Bob Moore Farms Heritage Place Yearling consignments.
Bob Moore Farms has been a reliable name in the Quarter Horse racing industry for over 50 years. Specialized reproduction, stallion management, and sales preparation are among the list of services provided by the Norman, Oklahoma breeding facility. For more information on Bob Moore Farms, call 405-329-8571 or visit bobmoorefarms.com.