RACING THIS WEEK
FEATURES
SERVICES
Potential bidders must be pre-registered by Wednesday, September 23rd 42nd annual September Yearling Sale this week in Oklahoma City.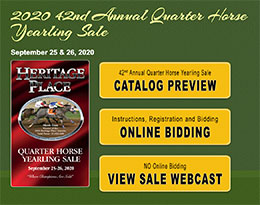 Heritage Place Yearling Sale Online Bidders Must Pre-Register by Wednesday
OKLAHOMA CITY, OK—SEPTEMBER 21, 2020—
Wednesday (Sep. 23) is the last day potential online bidders can pre-register for the 42nd annual September Yearling Sale set to kick off on Friday in Oklahoma City.
The annual sale, offering 685 race bred Quarter Horse yearlings, will be held Friday, September 25th and Saturday September 26th.
CLICK HERE to watch the Heritage Place Online Bidding and Registration Tutorial.
For an online bidding registration form CLICK HERE.
A catalog preview of the 2020 Heritage Place Yearling Sale can be found by CLICKING HERE.
For additional questions regarding online bidding approval please call Terry Addis at (405) 682-4551 or email terry@heritageplace.com.