RACING THIS WEEK
FEATURES
SERVICES
Ed Allred's Rolling A Ranch released a video of their 2020 Los Alamitos Equine Sale yearling consignment.

© Courtesy Rolling A Ranch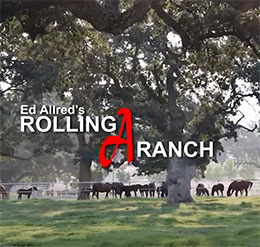 Video Preview Of Ed Allred's Los Alamitos Equine Sale Consignment
LOS ALAMITOS, CA—SEPTEMBER 20, 2020—
A video preview of Ed Allred's consignment for the 2020 Los Alamitos Equine Sale is now available for viewing and it highlights many of the top colts and fillies that will enter the sale ring on October 3-4.
The video preview features photos and bullet points for 26 of the more than 50 yearlings and mares that will represent Allred and his Rolling A Ranch at the two-day sale.
Allred's consignment features an array of the first crop of yearlings sired by Fly Thru The Fire, plus top stallions Kiddy Up, Foose, Seperate Interest and Favorite Cartel.
CLICK HERE to view Ed Allred's 2020 Los Alamitos Equine Sale Yearling Video Preview.
Allred is the sport's all-time leading Quarter Horse breeder in wins, stakes wins, and money earned and has been named AQHA champion breeder a record 13 times. To view catalog pages or for more information on the Los Alamitos Equine Sale call 714-236-1755 or visit LosAlamitosEquineSale.com.
* * * * * * * * * * * * * *
Courtesy of www.losalamitos.com.