RACING THIS WEEK
FEATURES
SERVICES
he annual "Return to the Remuda Sale" will be held Friday and Saturday at 6666 Ranch in Guthrie, Texas.

© Courtesy 6666 Ranch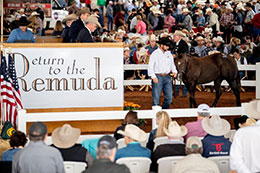 Return to the Remuda Sale Set Friday and Saturday
GUTHRIE, TX—SEPTEMBER 29, 2020—
The annual "Return to the Remuda Sale" will be held Friday and Saturday (October 2-3).
The sale will include registered American Quarter Horses of various ages from four historic ranches: Four Sixes Ranch, Beggs Cattle Company, Pitchfork Cattle Company and Tongue River Ranch.
Three of the ranches are winners of the prestigious AQHA Best Remuda Award, which recognizes the outstanding foundation that ranch horses laid for the American Quarter Horse.
This year's guest consignors are Circle Bar Ranch, King Ranch and Wagonhound Land & Livestock.
The event features some of the industry's finest bloodlines with success in cutting, reining, reined cow horse, roping, barrel racing and ranch horse competitions offering approximately 100-150 head of quality horses that range in age and includes weanlings, yearlings, 2-year-olds, ranch geldings, mares and stallion prospects.
A demonstration of sale horses will be held Friday and the sale will be conducted Saturday.
CLICK HERE to view catalog and sale information.
IMPORTANT SALE INFORMATION:
Demonstration: Friday, October 2 at 11:00 a.m.
Sale: Saturday, October 3 at 10:30 a.m.
Location: Four Sixes Ranch, Guthrie, Texas
On-site Registration: Please visit the office upon arrival to register for the sale.
On-site Payment: Only cash and checks are accepted at the sale.
Absentee Bidding: If you are unable to attend the sale but would like to purchase a horse you must pre-register no later than Wednesday, September 30 (see below).
Meals:

A food truck will be selling breakfast from 7-9:30 as well as complimentary tea and coffee
Daily Lunches will be available for purchase; all proceeds benefit the American Quarter Horse Foundation.
Evening Meal will be available on Friday.
Can't make it to the Return to the Remuda Sale? How to Participate as an Absentee Buyer
We have made preparations to bid and buy livestock through Superior Productions' "Click-To-Bid" service for those unable to attend in person on sale day.
CLICK HERE to see how it works.
CLICK HERE to register for "Absentee Bidding".
For additional information visit 6666ranch.com or call (855) 674-6773.