RACING THIS WEEK
FEATURES
SERVICES
Photos, videos and catalog pages for the 2020 Lazy E Ranch's Heritage Place Fall Mixed Sale consignment is available online.

© Lazy E Ranch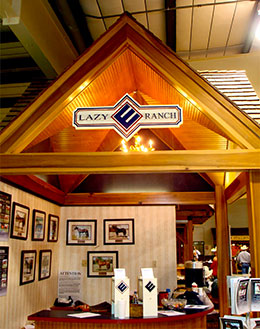 Lazy E Ranch Posts Heritage Place Fall Mixed Consignments
GUTHRIE, OK—OCTOBER 20, 2020—
Photos and catalog pages for the 2020
Lazy E Ranch
consignment to the Heritage Place Fall Mixed Sale is now available online.
CLICK HERE for a flipbook of their 2020 consignment.
A complete list of yearlings, broodmares and horses of racing age consigned by Lazy E is featured on their website by CLICKING HERE.
The 2020 Heritage Place Fall Mixed Sale will be held October 30th and 31st at the Heritage Place Sale's Sale Pavilion in Oklahoma City.
For more information about Lazy E Ranch, visit www.lazyeranch.net.