RACING THIS WEEK
FEATURES
SERVICES
All American Ruidoso Horse Sale Company announced today they will conducted the company's three signature horse sales over Labor Day Weekend 2021.

© Ruidoso Downs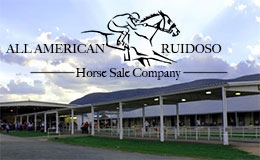 Ruidoso Horse Sales To Conduct A Single Sales Event In 2021
RUIDOSO DOWNS, NM—JANUARY 11, 2021—
All American Ruidoso Horse Sale Company has announced that the company's three signature horse sale events will all be conducted over Labor Day Weekend in 2021.
The New Mexico-Bred Quarter Horse and Thoroughbred Yearling Sale and the Foals-in-Utero Sale, will begin the afternoon of September 3rd and the evenings of September 3rd, 4th and 5th will be present consignments for the Select Quarter Horse Yearling Sale.
"Our 2020 Select Yearling Sale was one of our most successful sales ever with 315 yearlings sold for an average of $45,774," said Lowell Neumayer, General Manager of the All-American Horse Sale Co. "We had 29 different yearlings that brought six figure sale prices."
The Select Yearling Sale and New Mexico-Bred Sale have long been a source of many stakes winners including recent New Mexico-breds Stormin The Jewels ($472,000), Mister Riptide ($748,000) and Select Sale graduates Flash And Roll ($1,710,000), Rustys Miracle ($762,000), Hotsempting ($662,000), Cyber Monday ($516,000) and Dexxter ($492,000).
Recent years have seen 17 different millionaires purchased through the Select Sale. Sale contracts will be available in April, and the sale entry deadline for the 2021 sales is May 14th. All Select Sale yearlings must be nominated to the 2022 All American Triple Crown by January 15, 2021.
For more information visit RaceRuidoso.com.