RACING THIS WEEK
FEATURES
SERVICES
Dr. Steve and Jo Burns (left) and trainer Christopher O'Dell with Saturday's Ruidoso Select Sale $400,000 High Seller, Hip 252 Cyber Attack.

© StallioneSearch / Greg Thompson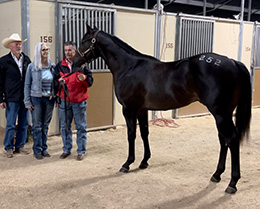 Ruidoso Select Yearling Sale Continues Record Breaking Climb Through Second Session on Saturday
RUIDOSO DOWNS, NM—SEPTEMBER 4, 2021—
The 2021 Ruidoso Select Yearling Sale continued a meteoric rise in its second session Saturday with 131 yearlings averaging more than $75,000, a record for a Quarter Horse race bred yearlings auction.
The opening session on Friday included an all-time record of $800,000 for a Quarter Horse Yearling sold at auction.
"Tonight's sale is the best sale ever held in the Quarter racing business," longtime Ruidoso Horse Sale Company General Manager Lowell Neumayer said late Saturday. "The quality offered was unbelievable and the crowd was here in force to buy them. I still can't believe what took place tonight."
In the first two sessions, a total of 280 yearlings went through ring with 244 selling for gross receipts of $16,327,000, a 50% increase from two years ago when 231 of the 257 offered sold for $10,794,700 (due to COVID restrictions last years sale was held in Oklahoma and was not the typical 3 sessions event, so comparisons of night vs. night are from 2019).
The yearling average through two nights this year is $66,914, a jump of 43% from 2019's $46,730. The median has soared to $45,000 this year, up 41% from 2019's $32,000. The buy-back rate is 15% through two-days.
Rosenthal Ranch LLC paid $400,000 for Saturday's high-seller, Hip 252 Cyber Attack, a brother to three Grade 1 winners, Powerful Favorite ($980,917), Runforyourlife ($620,822) and Ruidoso Futurity(G1) winner Cyber Monday ($620,822).
Consigned by Burns Ranch, Agent, the February colt is out of the AQHA Dam of Distinction and Grade 1 winner Remember Me Rose by Corona Cartel.
Christopher O'Dell trains both Powerful Effort and Runforyoulife for Rosenthal Ranch LLC.
Burns Ranch, Agent, also sold Saturday's second high-seller, Hip 265 Ray Yeigh to Reed & Manuel and Kevin Rodriguez. Also by leading sire Favorite Cartel, Ray Yeigh is out of the G3-placed Check Him Out mare Tac Out. The second dam is Rainbow Derby(G1) runner-up Separate Tac by Separatist, who has produced five black type runners.
Two yearlings tied for the third-high seller spot, Hip 294 Hott Dynasty and Hip 276 Whiskey Creek, bringing $300,000 each.
Chow Venture purchased Hott Dynasty, a FDD Dynasty half-sister to champion Hotstepper ($1,336,359), Ruidoso Derby(G1) winner Hotsempting ($681,793) and G1-placed In Hott Pursuit ($189,970). Fulton Quien Sabe Ranches LP consigned the brown filly out of Sam Houston Juvenile(G3) winner Pandorum by Tres Seis.
West Texas Racing Partnership, purchasers of the all-time high selling QH yearling, Texas First Flash in the opening session, paid $300,000 for Whiskey Creek, a half-brother to Los Alamitos Winter Derby(G1) winner Flash Bak ($554,682), Refrigerator Handicap(G1) winner Cobalt Creek ($324,899), and two other black type. Lazy E Ranch, LLC, Agent for Jim Streelman and Bill Dale consigned the Apollitical Jess colt out of Grade 1 winner Checknbac by Check Him Out.
West Texas Racing Partnership is the leading buyer through two sessions with six head for $1,367,000. Chow Venture paid $675,000 for three head and Rachuan Suarez purchased 14 yearlings for $589,000.
Julianna Hawn Holt is the leading consignor and agent through two sessions with eight head grossing $1,627,000. Lazy E Ranch, LLC, Agent for McColee Land & Livestock, LLC sold 16 yearlings for $1,507,000, Burns Ranch, Agent has 12 head for $1,311,000 and Lazy E Ranch, LLC, Agent had 26 yearlings gross $1,257,000.
First Moonflash is the leading sire (by average, two or more sold) with nine head averaging $135,222. Freighttrain B has two head for $127,500 and Favorite Cartel has 16 sold that averaged $95,750.
First-crop sale sire, champion KVN Corona leads first-crop sale sires with 15 sold for $61,933 average.
For preliminary results from sessions one and two, including hip-by-hip prices, CLICK HERE.
* * * * * * * * * *
Sunday's closing session will also begin following the last race at Ruidoso Downs, offering Hips 313 thru 443.
CLICK HERE to download an PDF copy of the 2021 Ruidoso Select Yearling Sale. Catalog hardcopies have been mailed to potential buyers and are available at the sales pavilion.
The complete yearling catalog, including horse, consignor, sire and dam indexes, is also available through the RGP Catalog App for iPad, iPhone, Android phones and Android tablets.
To download the RGP Catalog App visit the Apple App Store or Google Play. Users need to search for "RGP Catalog App" on iTunes and Google Play, because the App hasn't been updated to QData.
An RGP Catalog App online teaching tutorial can be found here.
For additional sale information call the Ruidoso Horse Sale Company at 575.378.4474.
Preliminary sale results will be available following each session in the Auction Leaders section of Stallionesearch.com.