RACING THIS WEEK
FEATURES
SERVICES
LIve bidding begins Saturday, December 15 for the 2018/2019 UQHRA Stallion Service Auction.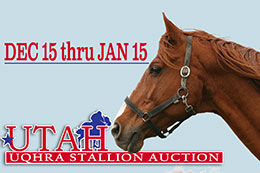 2019 UQHRA Stallion Auction Goes Online, Opens Saturday
OGDEN, UTóDECEMBER 10, 2018ó
Utah Quarter Horse Racing Association (UQHRA) will kick off their 2018-19 Stallion Service Auction on Saturday (Dec. 15). This year the annual auction will run from December 15 thru January 15 and bidding will be accepted online for more than 50 of the industry's leading stallions. Additional stallions services are being added daily.
All foals sired by any stallion whose breeding's sells in the 2018/2019 auction will become eligible to nominate to the 2022 $100,000-est. Beehive Futurity.
Among stallion services available this year are champions, champion sires and multiple grade 1 sires to include Amnesty, Bf Farm Boss, Big Daddy Cartel, Big Lew, Bigtime Favorite, Bodacious Dash, Cd Rockin Da Wagon, Conn Creek, Corona Caliente, Coronas Leaving You, DMNV Mountable, EC Jet One, Eye Am King, Feature Mr Bojangles, First Timber, Flay, Four Six Jess, Glock, Harems Last Dash, Hez Fast As Cash, Heza Fast Rogue and Highest Fire.
Also Indigo James, JR Dynasty Mountain, King Henry, Kiss My Hocks, Kool Wagon, Kvn Corona, Lethal Corona, Looking For Speed, My Famous Romance, One Dashing Eagle, One Fabulous Eagle, One Famous Romance, One Handsome Man, One Sweet Jess, Paint Me Perry, Pappasito, PCR Pink Cadillac, Power Jam (TB), Racy Casanova, Royal Quick Dash, Sir Seth, Sizzlin Cartel, Solid Hitter, Stoli, TF Im That Guy, The Crawfish, The Marfa Lights, Wagon Tales, Winners Award and Zoomin For Bux.
CLICK HERE to view current stallion offerings or pre-register now on the UQHRA Stallion Service Auction website.
No Rush Bidding
There will be a "5 Minute Extension" to allow time for everyone to bid during the 2018/2019 auction. If two or more people are bidding on the same stallion service within the last five minutes of the auction closing (7 pm (MST) sharp January 15,2019), the bidding will automatically continue in increments of five minutes until only one person is bidding. The stallions that are extended will be noted in red on the auction page.
Bidders are asked to please note once a stallion's bidding has been extended, you MUST be on the Stallion's Bidding page to see the countdown clock for that Stallion. That Stallion's countdown clock will automatically reset and add 5 minutes each time a bid is made. This "Stallion Listing" page only refreshes when the "Auction Clock" expires. To see updated bids, the bidder must refresh this page.
For additional information or bidding questions contact Taylor Johnson at 801-791-2637 or email uqhrastallionauction@gmail.com .
* * * * * * * * *
Stallion owners who would like to donate a breeding and make their stallion's offspring eligible for the 2022 $100,000-est. Beehive Futurity CLICK HERE for a 2018 UQHRA Stallion Donation Contract.