RACING THIS WEEK
FEATURES
SERVICES
Session 3, the final session of Texas A&M's Legends Premier Stallion Season Auction benefitting Stallion Reproductive Studies, ends at Noon CST, Thursday, February 6.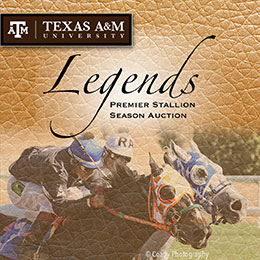 Final Session of Annual Texas A&M Legends Premier Stallion Auction To Close Thursday
COLLEGE STATION, TX—FEBRUARY 4, 2020—
Texas A&M University's 12th Annual Legends Premier Stallion Season Auction's third and final session will close Thursday, February 6th. All bids must be received by noon (CST).
More than 40 great racing stallions are still available including champion and champion sire Apollitical Blood. Sire of the 2019 AQHA Racing Champion 2-Year-Old Gelding Trump My Record in his first crop to race, Apollitical Blood stands at Robicheaux Ranch in Breaux Bridge, Louisiana for an advertised fee of $6,500.
Farm manager Ryan Robicheux told Legends manager Warren Hohertz the son of leading sire Apollitical Jess will book full in 2020. Breeders' are urged to not miss this opportunity while helping a great cause.
Available stallions include Apollitical Blood, Special Effort (ICSI ONLY), Hez Our Secret, Separatist, One Fabulous Eagle, Coronas Leaving Your, Carters Cartel, Lucky Wonder Horse, Dominyun, Winners Version, Bodacious Dash, Ocean Runaway (3 Seasons donated), Fly The Red Eye ( 2 Seasons donated), Royal Quick Dash, Stray Cat, Shining First Dashand Power Jam (TB).
Also Corona Surfer, Bf Farm Boss, You Drive I Fly, Agouti, Desirio, FDD Going Grand, KS Cash N Fame, Sizzlin Cartel, First Prize Doc, Kas Tempting, Rc Me Leaving You, Brace For Bernal, Igotyourtac, CFour A Darknight, A Guy With Proof, Lethal Corona, Kinenos Moon, Marsala Red, Rooster Sparks, Bogart, Four Six Jess, SR Fame Has Perks and Fly the Red Eye.
CLICK HERE for the list of stallions still available for the 2019 Legends Premier Stallion Season Auction or to register to bid CLICK HERE.
For additional information Call Warren Hohertz at (979) 862-2031 or email: legends@cvm.tamu.edu.