RACING THIS WEEK
FEATURES
SERVICES
Marvin Barnes prepares to parade Mr Master Bug in front of the Ruidoso Downs grandstand upon his retirement from racing in 1984.

Ruidoso Downs Photo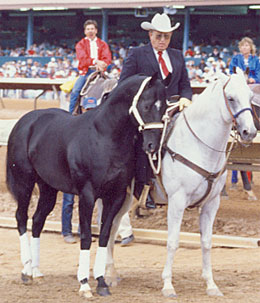 30 Years Ago: A Look Back At Mr. Master Bug
RUIDOSO, NM—AUGUST 28, 2012—
In 1982, the world of quarter horse racing was in awe of an accomplishment that has yet to be re-lived by anyone. It will thirty years to the day on Labor Day of 2012 that owner Marvin Barnes watched two of his homebreds, Mr Master Bug and Miss Squaw Hand, finish first and second in the first 'true' $1,000,000 horse race. It was the first and last time an owner had the top two finishers in the All American Futurity.
Prior to 1982, Ruidoso Downs boasted the fact that it was home to the world richest horse race. But it wasn't until 1982, that the All American Futurity winner's check was greater or equal to $1 million dollars. At the time, it was the richest race in history regardless of the breed of horse. The purse far exceeded the payday of all of the classic thoroughbred races at the time as well.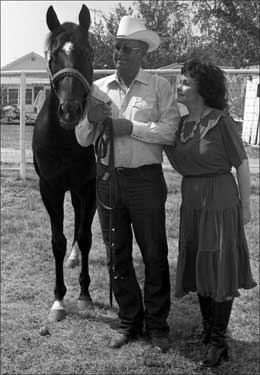 Marvin and Lela Barnes with Mr Master Bug at their home in Ada, Oklahoma.
Lynette Shurtleff / Ada Evening News
Trainer Jack Brooks qualified both of the entries into the finals of the rich event for owners Marvin and Lela Barnes. With jockey Jacky Martin aboard Mr Master Bug, and jockey Jerry Burgess aboard Miss Squaw Hand, the Barnes owned entries race down the track on the Labor event to finish 1st and 2nd in the 440 yard dash.
This achievement came just one year past the sports only Triple Crown victory of Special Effort in 1981. The check to Dan and Jolene Urschel for the All American victory in 1981 was only $528,000. Marvin and Lela Barnes had a check for the 1st and 2nd place finish that totaled $1,343,500. That amount was also the largest payday in horse racing history.
In his three year old campaign, Mr Master Bug would come back to Ruidoso to contest the All American Derby. He was coupled as an entry with Miss Squaw Hand, again with Martin and Burgess aboard for trainer Jack Brooks. Mr Master Bug would hit the wire in front, but then was disqualified and place third for interference. Instead of getting a check for $564,161 for winning the All American Derby, he earned $110,256 for the disqualified third place finish.
If you do the math, his career earnings total if his placing would have stood as the 1st place finisher in the 1983 All American Derby would have been $2,248,311. Stolis Winner's career total as to date is $2,235,161. Mr Master Bug would have been sports all-time leading money earner in 2012. Mr Master Bug retired with a career total of $1,793,718.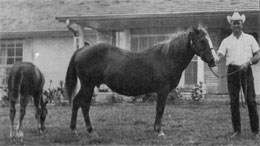 Marvin Barnes pictured with with FL Ladybug, the maternal granddam of Mr Master Bug.
c. 1970
"It's wonderful to still be able to look back after all these years and know that Mr Master Bug is still one of the greatest runners ever to run there at Ruidoso," said 92-year-old Marvin Barnes of Ada, Oklahoma. "He and Miss Squaw Hand gave me and my wife a thrill of a lifetime. I bred his mother Flick Bug to Walter Merrick's Thoroughbred stud Master Hand in order to get more distance into her colts. Mr Master Bug was just another big runner that came out of the bloodline of the broodmare FL Lady Bug. She was just such a great producer of runners."
To watch Mr Master Bug's 1982 All American Futurity win CLICK HERE.