RACING THIS WEEK
FEATURES
SERVICES
Kenneth "Puff" Moore headed horses in Farmington, Ruidoso, El Paso, Hobbs, Albuquerque, Hialeah and more.

Hialeah Park Photo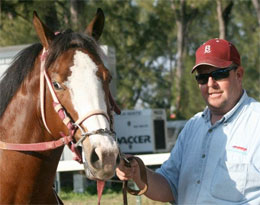 Kenneth Moore Dies Following Gate Accident
HIALEAH, FL—JANUARY 28, 2013—
On January 20, 2013 Kenny Moore was involved in an accident in the starting gates at Hialeah Park in Hialeah, Florida. His injuries included a ruptured brain aneurysm, which bled extensively into his brain. The initial swelling made the CT scans difficult to diagnose. After a few days the swelling decreased, and the CT scans revealed more damage than initially believed.
After extensive discussions with the team of doctors working with Kenny's family, a decision was made it was best for him to be removed from all machines yesterday (January 27). Kenny, or "Puff " as his friends called him, passed away shortly after.
Puff is survived by his wife, Skeeter, and three children Shay Lynn, Matthew and Kenneth.
Puff has been one of the best assistant starters in the country for many years. He headed horses in Farmington, Ruidoso, El Paso, Hobbs, Albuquerque and Hialeah to name a few.
"Whether you knew Kenny "Puff" Moore or not, you were some how affected by his professionalism in the horse racing business," trainer Bradley Bolen said Monday. "He had the most contagious smile, and worked tirelessly to help horsemen at the gates, in the paddock or at the barn. "Puff" you will be missed."
A special Facebook page PrayersForPuff has been set-up.
Donations are needed to help the Kenneth Moore family. They can be sent to Ruidoso Downs Race Track Chaplaincy, P.O. Box 449, Ruidoso Downs, New Mexico 88346. Checks should be made to Ruidoso Downs Chaplain Benevolence Funds in Memory of Kenneth Moore.