RACING THIS WEEK
FEATURES
SERVICES
Ralph and Carrie Fales were named the Arizona Quarter Racing Association Champion Breeders for 2013.

© Coady Photography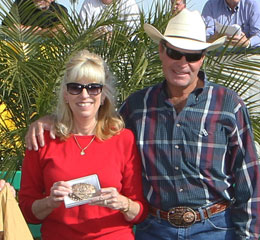 AQRA Announces 2013 Award Winners
THATCHER, AZ—JANUARY 7, 2014—
Arizona Quarter Racing Association announced their 2013 Championship Awards this week. The winner's will be feted at the annual AQRA Banquet at Turf Paradise on Friday, January 31.
Ralph and Carrie Fales were awarded the AQRA Champion Breeder for 2013. They bred and campaigned the Arizona Bred Two-Year-Old Filly So You See, Arizona Bred Three-Year-Old Filly Harlee Tucker, Arizona Bred Aged Gelding Bringin It On and the Arizona Bred Distance Horse A Mere Corona this past season and earned 376 AQHA points. The Coolidge, Arizona couple who own and operate Fales Ranch bred 25 winners in 2013 from 68 starters with earnings of $175,651.
Cesar Dabdoub earned the Champion Owner title with 473 AQHA points. He campaigned Arizona Bred Campion Aged Stallion Heart To Spare. Dabdoub had 17 winners from 84 starts in 2013 and earnings of $105,898.
Matthew Fales was the AQRA Champion Trainer with 811 AQHA points earned. Nationally he saddled 35 winners from 137 starters and his stable earned $239,116. Martin Bourdieu was the named the AQRA Champion Jockey with 689 AQHA points. The jockey rode 50 winners in 219 races last season and his mounts earned $451,679.
Grade 1 sire Heza Motor Scooter was honored with the Champion Arizona Sire award with nine winners from 27 starters and earnings of $354,344. Champion Rylees Boy was his leading money earner. Joyce Erickson owns Heza Motor Scooter who stood at Fales Ranch when he was in Arizona.
Allready In Love, dam of Bringin It On and Allright Already, was the Champion Arizona Broodmare in 2013. Bringin It On, by FDD Dynasty, won four of six starts in 2013 and earned $19,116. The stakes winner has won six lifetime starts and earned $56,848. Allright Allready, a 2-year-old daughter of Heza Motor Scooter, qualified for two futurities in 2013. Allready In Love is owned by the Fales.
The 2013 AQRA award winners include:
CHAMPION BREEDER
RALPH AND CARRIE FALES AQHA POINTS 376
CHAMPION OWNER
CESAR DABDOUB AQHA POINTS 473
CHAMPION TRAINER
MATT FALES AQHA POINTS 811
CHAMPION JOCKEY
MARTIN BOURDIEU AQHA POINTS 689
CHAMPION ARIZONA SIRE
HEZA MOTOR SCOOTER
CHAMPION ARIZONA BROODMARE
ALLREADY IN LOVE, dam of two horses racing "Bringin It On" and "Allright Already"
AZ BRED TWO YEAR OLD COLT
Caracortada by Azoom out of Classy Judgette by Judge Cash)
6 STARTS 3 -3-0 $52,146—RAMON VEJAR , OWNER
OPEN TWO YEAR OLD GELDING
Phone Tag by Separatist out of Hope To Cope by Hawkinson
8 STARTS 1-2-0 $32,240—MARTHA WELLS, OWNER
AZ BRED TWO YEAR OLD FILLY
SO YOU SEE
by Azyouansee out of Genuine Rocks by Rocky Jones
7 STARTS 3-1-1 $30,013—RALPH AND CARRIE FALES, OWNERS
OPEN TWO YEAR OLD FILLY
JESS FEELIN BLUE
by Jess Louisana Blue out of Polynesis by Seperatist
4 STARTS 0-3-0 $13,416—YN STABLES, OWNER
AZ BRED THREE YEAR OLD C/G
JESS PERFECT MIRACLE
by Dean Miracle out of Jess Perfect Girl by Feature Mr Jess
11 STARTS 1-2-3 $7,498—LAS VEGAS RANCH OWNER
OPEN THREE YEAR OLD C/G
BOMB DIGGITY
by Game Patriot out of La Jolla Sioux by Streakin Six
11 STARTS 2-2-2 $15,329—JUAN G ROBLES, OWNER
AZ BRED THREE YEAR OLD FILLY
HARLEE TUCKER
by Heza Motor Scooter out of Phenomena by Rocky Jones
4 STARTS 1-1-2 $24,641—RALPH AND CARRIE FALES, OWNER
OPEN THREE YEAR OLD FILLY
CUZ I SAY SO
by First Down Dash out of La Michoacona by Mr Jess Perry
7 STARTS 3-1-1 $$27,535—JESUS BARBOA, OWNER
ARIZONA BRED AGED GELDING
BRINGIN IT ON
by Fdd Dynasty out of Already In Love by Corona Cartel
6 STARTS 4-1-0 $19,116—RALPH AND CARRIE FALES, OWNER
OPEN AGED GELDING
BLUES MAN WON
by Ocean Runaway by Blues Girl Too by Corona Cartel
7 STARTS 3-3-1 $25,644—LUCKY SEVEN RANCH, OWNER
AZ BRED AGED STALLION
HEART TO SPARE
by Royal Quick Dash out of Be So Merry by Streakin Six
6 STARTS 2-1-2 $6,81—CESAR DABDOUB, OWNER
OPEN AGED MARE
IB RAPID
by Mr Jess Perry out of Iba Special by Strawfly Special
7 STARTS 3-1-0 $18,068—Y N STABLES, OWNER
AZ BRED AGED MARE
PANCHITO BONITA
by Arnold Ess out of Another Zipper by A Classic Dash
10 STARTS 3-3-2 $13,286—TOM AND MARGARET BARTOL, OWNER
ARIZONA BRED DISTANCE HORSE
A MERE CORONA
by Corona For Me out of A Mere Formality by Leavin Memories
4 STARTS 1-1-1 $7,316)—RALPH AND CARRIE FALES