RACING THIS WEEK
FEATURES
SERVICES
Editor's note: This is a letter from FQHRA President Ron Smith sent to FQHRA members and horsemen in response to recent reports on Quarter Horse racing in the State of Florida.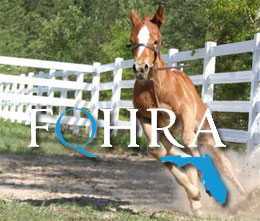 FQHRA Response to Recents Reports on Quarter Horse Racing in Flordia
Dear FQHRA members and horsemen,
There are several stories and rumors going making the circuits so FQHRA would like to give you the facts. As far as decoupling casinos from the racetracks goes, decoupling is less of an issue now than it has been for the last 4 years.
Decoupling was defeated in the 2016 legislature and the legislative leadership for the next two years has no interest in listening to proposals about decoupling. The leadership for the next two years understands the economic impact of horse racing and breeding for the state.
Each year since 2009, the first year AQHA racing began at Hialeah, there has been some version of an attempt to form a new horsemenís group, other than FQHRA, that would represent the horsemen in purse negotiations at Hialeah. In past years the track has filed lawsuits in an attempt to wear us down by using up our time and resources.
All these lawsuits did was prove that FQHRA has run the organization and represented the horsemen in an outstanding manner. Our books were gone over from 2009 through March 2015 by the opposing sideís attorneys and accountants and they were found to be squeaky clean. This process took about 16 months and thousands of man-hours but in the end FQHRA was victorious.
In 2011 The Poarch Creek Indians and their attorneys did their best to circumvent the law governing pari‐mutual racing and its requirements for a full schedule of live racing (40 days and 8 races per day) in order to have a casino and card room.
FQHRA representatives spent 9 days in hearings. FQHRA, FHBPA and FTBOA joined together to protect the economic impact of horse racing and breeding in Florida from this attempt to circumvent the law and were once again proven right by a judgeís decision saying that any QH racing in Florida had to be racing that AQHA would approve if asked to do so.
That decision was appealed and FQHRA won the appeal. A huge part of our case was the health and welfare of the horse. No one will look out after our great AQHA racing horses as well as a horsemenís group such as FQHRA and other AQHA affiliated groups. The health and welfare of the horse is job one and it won the day for us in 2011.
The recent attempt to form a new horsemenís group called the South Florida Quarter Horse Association is nothing new. It is just a combination of the rogue attempts to circumvent the law outlined in the above paragraphs. Horsemenís purse agreements are supposed to be turned in to DBPR by the first Tuesday in January.
Hialeah was given the leniency of waiting until February 28, the final day applications for racing are supposed to be in, and still did not have a horsemenís purse agreement. FQHRA had sent a horsemenís purse agreement similar to the one used the previous 6 years but with slightly higher purse money to Hialeah but received no response.
The new SFQHA was formed March 14, the afternoon before the racing licenses went out on March 15. None of these timelines follow the rules that are set up at DBPR. At that time SFQHA had only a few members and those members were the officers previously used in the 2011 attempt to circumvent the pari‐mutual racing requirements. Since that time SFQHA has also recruited some owners who have benefited greatly from AQHA racing in Florida and these people have apparently jumped on board, apparently with the lure of short term gain for themselves.
The SFQHA requires anyone racing at Hialeah to be a member of SFQHA. Their proposed purse structure would be 4% of the card room revenue. That would be a far cry from the current purse structure negotiated by FQHRA. It is much easier to make a favorable deal for yourself if you own both sides of the table.
This was clearly not the intent of the legislature when they required a full schedule of live racing and a written signed agreement with FQHRA or the group that represents the majority of the horsemen at the track in order to have the privilege of a slots or card room license.
FQHRA is clearly the majority horsemenís group and has represented the horsemen in the legislature and legally since October 2005. That slots/card room privilege was in trade for the economic engine that horse racing and breeding brings to the state, not a free pass for a few individuals to become even wealthier. Many of the horses in setups like this run more than once a day and a few times a week and then are sold after ďthe meetĒ is over. FQHRA on the other hand spent many years and a lot of money getting the ARCI medication rules and penalties passed as state law in order to protect the horse and jockey. FQHRA has and always will keep the welfare of the horse as our primary goal.
FQHRA is challenging the legality of the new horsemenís group since its members will be horsemen who would supposedly race at Hialeah a year from now and it is a closed ďhouseĒ group. Thus a present slots/card room license for July 1, 2016 to June 30, 2017 is based on a possible future group that might race in June 2017.
Attached to this email is the letter our legal team sent to DBPR on June 3 (CHOCK HERE TO READ LETTER). If this were FQHRAís first rodeo with rogue groups and unsubstantiated claims then maybe it would be a different story.
However this is the same book with a different cover. We have the same legal team representing us that have represented us before. Not only that but we have the facts and the ability and desire to see this thing to the end. That combination of a great legal team, being right, having the stay power and the desire to see the process through to the end has resulted only in victories for the horsemen so far. We plan on this situation having the same results. Whatís more, just like the previous lawsuits only proved that FQHRA is a well‐managed and strong association, this attempt by others to circumvent the law will only make it crystal clear who the majority horsemenís group should be. In the end they are doing us a favor so we donít have to keep fighting this battle.
The sad part of the story is there are a few people out there who have benefited greatly from AQHA racing in Florida and they have fallen victim to the lure of short term gains and are in the process of trying to tear down the organization for their own gain.
They are probably part of the other sideís grand scheme. They only thing they care about medication rules is how to get around them. They surely wouldnít know how to get a law requiring certain medication and safety rules passed in a legislature. They also apparently canít do the math and understand that 4% of the card room revenue is less than 5% of the total purses for last year. Maybe there is some math going on that we canít see. We understand that with success comes the attack of the greedy and jealous. Itís just part of the territory.
However if we want to continue to enjoy our great sport, we all need to remember that the only way for horse racing to continue to be the great sport it is, is to stand united and to work toward a common goal of keeping our horses healthy, our jockeys safe and our sport clean and enjoyable.
If we always put the health and welfare of the horse and riders first and always do our best to put out a quality product, the other issues will take care of themselves. Itís called growing pains and itís what happens when you pack a good lunch. Lots of people see it and want to eat it. This situation is nothing new and FQHRA is well versed in it and knows how to deal with it. Itís just another day under the Florida sunshine. Our goal is to have things back on track in about 90 days or less. Stay tuned.
FQHRA leadership welcomes your comments and suggestions. We work for your horses, for you and the long-term success of AQHA racing and breeding.
Sincerely and Respectfully,
Ron Smith,
President, FQHRA