RACING THIS WEEK
FEATURES
SERVICES
Lake and Ladonna Newcomb's home near Elk City was destroyed in tornado that hit Elk City on Tuesday.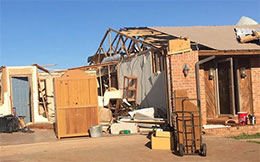 Newcomb Cattle Company Ranch Suffers Near Destruction, GoFundMe Account Established
ELK CITY, OK—MAY 19, 2017—
Lake and Ladonna Newcomb of Newcomb Cattle Company suffered near destruction of their home and barns after a tornado hit Elk City, Oklahoma in Beckham County, Tuesday (May 16) afternoon.
At least 100 structures were damaged and more than 50 were destroyed in the area. There are 10 reported injuries. The Elk City Police Chief told a local News station that some people were trapped inside of tornado-damaged homes. Incident Communication Officer Danny Ringer confirmed one fatality occurred.
Newcomb's, who have long been leading breeders in the Quarter Horse racing industry, also lost many of their animals.
Lake, a past president of the OQHRA, currently serves as a director for the state racing association.
Heritage Place, Inc. is a facilitating "GoFundMe" campaign to help Lake and Ladonna rebuild. As horse owners, we stand together and support each other in time of need. Donations in any denomination are greatly appreciated. All donations (100%) from "GoFundMe" account will go directly to the Newcomb's.
Lake and Ladonna Newcomb manage the Newcomb Cattle Company near Elk City, Oklahoma.
CLICK HERE
to donate to the Newcomb "GoFundMe" account.
In addition, if you would like to contribute to Oklahoma horsemen and women in time of tragedy, the OQHRA has a charitable fund called the Oklahoma Equine Disaster Fund.
More details of this charitable organization can be found on the OQHRA website at oqhra.com.