RACING THIS WEEK
FEATURES
SERVICES
Legacy Eagle battles This is An Eagle to the fastest qualifying time for the Grade 1 $873,616 Texas Classic Futurity at Lone Star Park.

© Dustin Orona Photography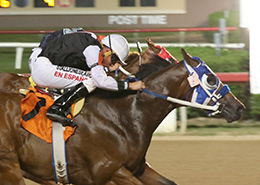 Plenty of Compelling Story Lines in Saturday's $873,616 Texas Classic Futurity (G1)
By Martha Claussen
GRAND PRAIRIE, TX—NOVEMBER 7, 2017—There is a lot on the line this weekend at Lone Star Park. The Grand Prairie, Texas racetrack will close out their 2017 Fall Meeting of Champions with an 11-race card on Saturday (Nov 11).
The biggest race of the evening will be the $873,616 Texas Classic Futurity and the Grade 1 feature boasts a highly competitive field with plenty of interesting story lines.
Trey Wood Seeking His Fifth Trophy
Trainer Trey Wood has won the Texas Classic Futurity four times, scoring with Bodacious Dash in 2010; Torts On Fire in 2014; Tres Friends in 2015 and last year with High Plains Perry. The Wood team had a huge night on October 21, sending five runners to Saturday's 400-yard final.
His lineup begins with fastest qualifier Legacy Eagle for owners Johnny Trotter and Randy Geiselman; Cartel Cupid, bred and owned by Randy and Sandy Coleman; Factual Basis for the partnership of Adam Smith, Ronald Sugamosta and Mu Taiaroa's; Paragon Farms' Another Shot; and Terry and Irene Stennett's homebred Streakin Seis Corona.
A $40,000 Ruidoso Select Yearling Sale graduate, Legacy Eagle set the fastest time of :19.698 in the seventh trial. He is a half-brother to champion Inseperable and Grade 3 winner Separate Interest.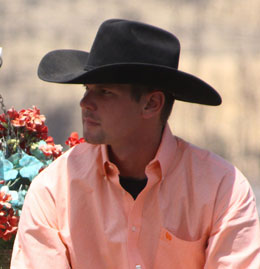 Trainer Trey Wood will be looking to saddle fifth Texas Classic Futurity(G1) winner.
© Robert Edwards
"My dad (Blane) and I knew Legacy Eagle had talent," said Wood. "He had some bad luck in Ruidoso, but looked great in his trial for the Texas Classic.
Wood's first call rider, 2015 AQHA Champion Jockey Ricky Ramirez, had a difficult choice to make, but opted for Randy and Sandy Coleman's homebred Cartel Cupid.
"He won his trial for the Rainbow and All American Futurity impressively, but Mother Nature was not on our side (with final times)," stated Ramirez. "Coming into the Texas Classic Futurity, he had one breeze at Lone Star, but had never run under the lights. He was a little on edge, but really showed me something coming for home. I just see room for improvement with Cartel Cupid."
Last year, Ramirez selected High Plains Perry, and won his fourth Texas Classic Futurity.
"I'll admit that this year's decision was my toughest ever," he said.
Wood is proud of each of his finalists and explained that the real pressure was qualifying.
"There is way more pressure in trials," he said. "You want to do well for all your owners, but once you have made the final, you can relax a little. Some of my horses have proven themselves and a few are just starting to get good now."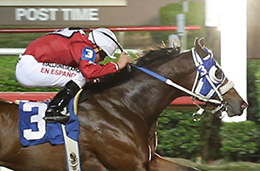 AQHA Racing Champion jockey Ricky Ramirez, who qualified four head to finals, has opted to ride Randy and Sandy Colemen's Cartel Cupid in Saturday's final.
© Dustin Orona Photography
Of course, the first Texas Classic Futurity win in 2010 with
Bodacious Dash
will always have a special meaning to Wood. Johnny Trotter's
Bodacious Dash
had been a bit of an enigma for Wood, qualifying for the 2010 Rainbow Futurity at Ruidoso Downs, but not replicating his effort in the final.
"He always had a lot of talent," Wood said. "He showed promise when we started running him in trials at Ruidoso, but never put it together in the final. At the end of his 2-year-old season, he ran a huge race."
Many conditioners have been in the game for decades without a tally in a million-dollar futurity. For Wood, it happened when he was just 22. He readily admits that he was not prepared for the enormity of that moment. Two races before the running of the Texas Classic Futurity, Wood watched as First Corona Call ran a disappointing fifth in the Derby.
"I remember telling my dad that I didn't think I would ever win a Grade 1," said Wood.
But dismissed at odds of 12-1, Bodacious Dash upset American Runaway to win the richest race in Texas, and Wood was in the winner's circle!
"I was in shock," he recalled. "In my opinion, it was one of the toughest Texas Classics I had ever seen. I remember watching the race and could not believe the way he almost beat the gate open. It was a great experience!"
Solid Credentials From Other Finalists
With his numbers and tremendous list of past champions in the Texas Classic Futurity, it would be easy for horseplayers to put all their wagers in one basket, but there several other worthy contenders in the final.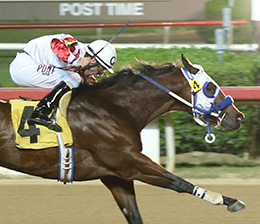 AQHA Racing Champion jockey will be aboard Hotstepper for trainer C. Dwayne Gilbreath.
© Dustin Orona Photography
Hotstepper, a son of
One Famous Eagle
, has been installed as the 5-2 morning-line choice. Owned by R.D. Hubbard, Johnny D. Cope, Henry Southway and Rafter W Stables, the bay gelding ran third in the $3 million All American Futurity (G1). Bred in Texas by Fulton Quien Sabe Ranches, Hotstepper was heavily favored in his trial and did not disappoint as he won in:19.707 seconds. He has won three of his six starts for the legendary C. Dwayne "Sleepy" Gilbreath, who will give a leg up to jockey Cody Jensen.
"I rode him in his schooling race at Ruidoso and knew he was going to be a good colt," said Jensen. "He was bad in the gate in trials for the Rainbow, so Sleepy and his crew put him in a flipping halter and he improved greatly in the All American." Jensen won the 2012 Texas Classic Futurity with Valiant Lil Lady, who he described as a "really gritty filly." He has confidence in Hotstepper in Saturday's final.
"He's not a big horse, but he's a big finisher," stated Jensen. "The further he goes, the better."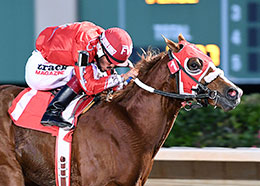 Trainer Leon Bard will saddle Sam Houston Futurity(G2) winner This Is An Eagle.
© Coady Photography
Trainer Leon Bard has enjoyed a highly successful 2017 in Texas. He captured the training title at Retama Park and finished second at Sam Houston Race Park. Bard won the $493,600 Sam Houston Futurity (G2) with This Is An Eagle for owner Mary Lynne Thompson.
Bred by Texan Pete Scarmardo, and foaled on Valentine's Day, This Is An Eagle was the $100,000 sale topper at last year's TQHA Yearling Sale. He was undefeated in four starts heading into trials for the Texas Classic Futurity and posted the third-fastest qualifying time of :19.718 seconds. Regular rider Francisco Calderon will guide the sorrel colt from post position eight.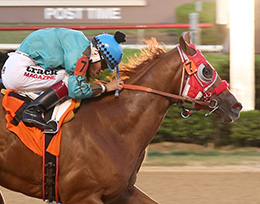 Trainer Leon Bard will also saddle This Is An Eagle's half-brother This Is A Deal for owner/breeder Pete Scarmardo.
© Dustin Orona Photography
"The horse is doing great," reported Bard. "Pete and I are close friends, and I knew right off the bat that this colt would be special. I am happy for Pete, and of course, for Mary Lynne, who has been a very loyal owner for many years."
Bard also conditions fifth fastest qualifier Scarmardo's homebred This Is A Deal. Also, sired by This Is An Eagle, both he and This Is An Eagle are out of the First Down Dash mare Lady Lilia, a half-sister to champion sire Desirio. James Flores will ride.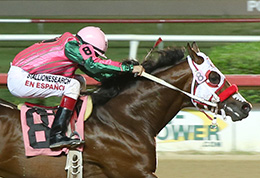 Jimmy Padgett II will saddled Paragon Farms' Starfield in Saturday's Texas Classic Futurity.
© Dustin Orona Photography
Paragon Farms LLC's Starfield was the tenth-fastest qualifier. The New Mexico-bred son of
FDD Dynasty
ran third in the Rainbow Futurity (G1) at Ruidoso Downs. Paragon Farms won the 2016 edition of the race with High Plains Perry and jockey Rodrigo Vallejo has piloted two previous winners. Trainer Jimmy Padgett saddled the winners of both the Grade 1 All American Derby and All American Futurity over Labor Day weekend.
Roy Baldillez Back in the Saddle
One additional note is the return from retirement by jockey Roy Baldillez, who won the Texas Classic Futurity in 2007 with Illegal Memories. He picked up the mount on fastest qualifier, Legacy Eagle after Ricky Ramirez opted to ride Cartel Cupid.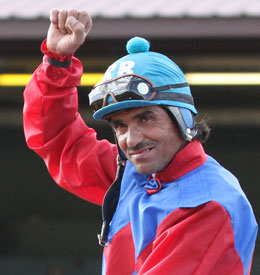 Jockey Roy Baldillez will return to ride fastest qualifier Legacy Eagle in Saturday's Grade 1 Texas Futurity.
© AQHA Racing
"Roy was one of the riders I watched when I was growing up," said Ramirez. "Legacy Eagle is the type of horse that prefers to be left alone; kind of like Ochoa. Roy fits that type of horse, so I mentioned his name to Trey, who didn't think twice before saying yes."
So, will it be another crowning moment for Trey Wood or first for Sleepy Gilbreath, Leon Bard, Alonso Neri or Jimmy Padgett? Did Ricky Ramirez make the right choice, or will another jockey add his name to the list of riding champions? These answers, and much more, will be revealed, in a very exciting edition of the $873,616 Texas Classic Futurity Saturday night at Lone Star Park!
The complete lineup, in post position order including jockey assignments:
Cartel Cupid (Ricky Ramirez)
Starfield (Rodrigo Vallejo)
This Is a Deal Too (James Flores)
Factual Basis (Russel Hadley)
Legacy Eagle (Roy Baldillez)
Streakin Seis Corona (Luis Vivanco)
Thecartelofmiracle (Manuel Gutierrez)
This Is An Eagle (Francisco Calderon)
Hot Stepper (Cody Jensen)
Another Shot (Raul Ramirez, Jr.)
Post time is 6:35 p.m. (Central) with the $45,979 Texas Classic Juvenile Stakes carded as the eighth race; the $384,355 Texas Classic Derby as the ninth and the Grade 1 Texas Classic Futurity set as race 10.
* * * * * * * * * * * * * * * * * * * * * * * * * *
Martha Claussen served as publicity director at Sam Houston Race Park for ten years. She continues to be active in writing, fan education and Quarter Horse racing publicity in Texas, Louisiana and other regions in North America.