RACING THIS WEEK
FEATURES
SERVICES
A bill currently moving through the Indiana legislature would allow the state's racinos to offer live table games this year and sports betting in 2020.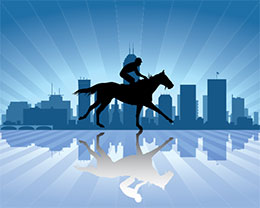 Horse Track Casinos In Indiana Could Get Boost From Bill Moving Through State's Legislature
INDIANAPOLIS, IN—FEBRUARY 12, 2019—
A shake-up of Indiana's gambling laws being debated could see two new casinos being built and allow legalizing sports betting to start as early as next year.
The proposal cleared a state Senate committee last week and comes as Indiana's 13 casinos have largely seen years of declining revenue amid increased competition from surrounding states and tribal casinos.
Caesars Entertainment gets a boost from the plan for the two horse track casinos near Indianapolis that it bought last year.
The bill would allow those two casinos to offer table games with live dealers beginning later this year. Current law restricts that until 2021. They currently only offer electronic games and expect live dealers will attract more gamblers.
The proposal would also allow the state's casinos to start sports betting in person or online starting in 2020 after receiving approval from the Indiana Gaming Commission. Wagers could be made on professional or collegiate sporting events, but not on high school or youth games. Those placing bets would have to be 21.
The step comes after the U.S. Supreme Court ruled last May that all states are free to legalize sports betting. Eight states currently accept bets with many more expected to follow suit.
No big state tax revenue boon is anticipated from sports gambling, as other states have seen modest results . Bill co-sponsor Sen. Jon Ford of Terre Haute says tax revenue estimates range from $3 million to $18 million a year, but sports betting will be an important marketing tool for Indiana's casinos.
Officials from the Indianapolis Colts and Indianapolis Motor Speedway were among those professional sports representatives backing the proposal.