RACING THIS WEEK
FEATURES
SERVICES
Live racing at Turf Paradise in Phoenix, Arizona, is scheduled to resume on January 2, 2021.

© Coady Photography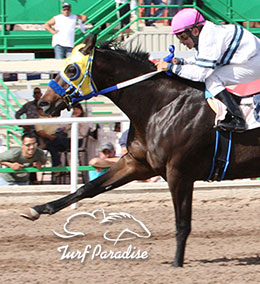 Turf Paradise Will Begin An 84-Day Meet On January 2
PHOENIX, AZ—OCTOBER 19, 2020—
Turf Paradise and the Arizona Horsemen's Benevolent and Protective Association (AZHBPA) have agreed to resume live racing at the Phoenix oval with an 84-day meet starting January 2, 2021.
The meet would run on a five-day-a-week schedule, Saturdays through Wednesdays, through May 1, 2021. Horsemen can arrive for stall setup in the stable area on November 19. Training would begin December 2.
Following months of negotiations between the AZHBPA and Turf management following a March 14 cancellation of the live meet in progress due to COVID-19, the two sides were able to craft a 26-point agreement. The forum for on-going discussions between the two sides was provided by Rudy Casillas, the director for the Division of Racing, Arizona's regulatory body for the sport.
In a letter from Casillas to AZHBPA president Bob Hutton and Turf Paradise owner Jerry Simms, Casillas wrote, "Many thanks to both of you for finally reaching terms to allow for the racing industry to move forward. The licensees and horseracing patrons will be pleased."
"The AZHBPA is all about live racing," said Hutton. "The AZHBPA is enthusiastic to help provide the opportunity for horsemen to race close to home and be with their families. Racing close to home will help eliminate unnecessary travel expenses and financial anxiety for our members."
"We're happy for our horsemen that they're going to be racing," said Simms. "Unfortunately we still have to deal with COVID-19, and we will. We thank Rudy Casillas for bringing us together and getting this done."