RACING THIS WEEK
FEATURES
SERVICES
Tack superintendent Johnnie Jamison died Tuesday, October 13.

© David Joles / Star Tribune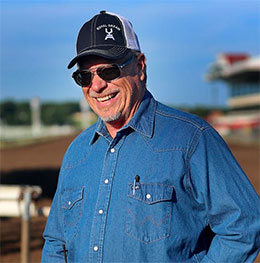 Racetrack Superintendent Johnnie Jamison Dies
EL PASO, TX—OCTOBER 19, 2020—
Johnnie Fillmore Jamison, 63, of El Paso, Texas, passed away on Tuesday, October 13, 2020.
Johnnie was born December 16, 1956, in Sunnyslope, Arizona, to Fannie Jamison and O.D. Jamison Sr. The second-generation horseman was dedicated to the maintenance of ground at racetracks and arenas.
He began working at racetracks in 1977 and served as track superintendent at racetracks such as Lone Star Park, Sunland Park, Indiana Grand, Gulfstream Park, Canterbury Park and Palm Meadows, as well as an official starter at San Houston, Indiana Grand, Hipodromo de las Americas and Manor Downs.
He was also the National Finals Rodeo Surface Coordinator for the 2016 World Championships and was awarded the same year the National Finals Achievement Award for ground safety.
Johnnie Jamison was a lot of things to a lot of people: a husband; a father, a grandfather, a son, a brother, and a great friend to so many throughout his 63 years of life. While his time on Earth was too short, his impact on the lives he touched will be forever lasting. His passing was a devastating loss to our family, the horse racing and rodeo community, and to all the people his love and friendship have touched throughout the years. Our hearts hurt like they have never hurt before however we will finish strong as he would want us to.
Johnnie is survived by his wife, Kimber; son Dr. J. Weston Jamison; son Wacey Jamison; son Waco Jamison; and son Wryder Butch Jamison; mother Fannie Jamison; sister Linda Alexander (Fred); sister Judy Highfill (Flaco); brother O.D. Jamison Jr. (Kelly); brother Stephen Ray Jamison (Rachelle); granddaughter Justice Sparks and granddaughter Wysh Jamison.
Johnnie was preceded in death by father O.D. Jamison Sr.; brother Jimmie Jamison.
A Celebration of Life will be held later at Sunland Park Race Track. Inurnment will also be held at a later date.