RACING THIS WEEK
FEATURES
SERVICES
Shatto Stoli, under jockey David Alvarez, setting the fastest time in the Mardi Gras Derby trials.

© Bee Silva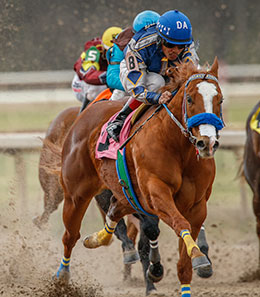 Shatto Stoli Leads the Field in the $93,898 Mardi Gras Derby
By Martha Claussen
BOOSIER CITY, LA—MARCH 13, 2017—The 11th running of the Mardi Gras Derby will also be contested on March 18. Three 400-yard trials were run on February 26 with Shatto Stoli winning the first heat and setting the fastest qualifying time of :19.926 seconds.
Trainer Rosendo Valdez, Jr. conditions the gelded son of Stoli for owner Rosendo Valdez. Juan San Miguel Jr. bred Shatto Stoli from the  Mr Jess Perry mare Scoopie Coochie. The multiple stakes winner has won four of his 12 starts with earnings of $65,925 heading into the Mardi Gras Derby final. David Alvarez, who was the leading AQHA jockey by wins in 2016, will ride.
Once again, offspring of Coronas Leaving You will be prominent in this year's final with four qualifiers sired by the Louisiana champion. La Mos Corona set the third-fastest time; Zoobbo had the fifth-fastest clocking; Jrs Coronas Shadow was the seventh fastest and Coronaoro recorded a qualifying time of :20.270.
Noted Louisiana stallions Jess Louisiana Blue, Game Patriot and Tee Cos will also be represented in the Mardi Gras Derby. Top Louisiana trainer Kenneth Roberts, Sr. is the only conditioner with two qualifiers. He will saddle TM Ranch's No Politics Here and Jrs Coronas Shadow for owner Gary W. Hartstack.
The Mardi Gras Derby (RG2), in post-position order, including jockey assignments:
Shatto Stoli (David Alvarez)
Jrs Coronas Shadow (Donald Watson)
Zooboo (Cipriano Vidana)
Tf Eyesa Firefigher (J.R. Ramirez)
Ivys Best Game (Ricardo Hernandez, Jr.)
Coronaoro (Damian Martinez)
La Mos Corona (Juan Garcia)
Fabulously Fast Game (Everardo Rodriguez)
Tee Mata (Raul Ramirez, Jr.)
No Politics Here (Noe Castaneda)
* * * * * * * * * * * * * * * * * *
Martha Claussen served as publicity director at Sam Houston Race Park for ten years. She continues to be active in writing, fan education and Quarter Horse racing publicity in Texas, Louisiana and other regions in North America.