RACING THIS WEEK
FEATURES
SERVICES
Triangle Horse Sales is hosting a unique opportunity to purchase from the elite breeding program of the legendary Oxbow Ranch.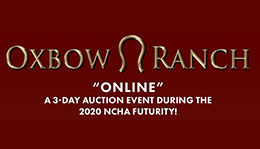 Triangle Horse Sales Hosts Oxbow Ranch Online Sale
WEATHERFORD, TX—NOVEMBER 23, 2020—
Triangle Horse Sales is hosting a unique opportunity to purchase from the elite breeding program of the legendary Oxbow Ranch, Fri. and Sat., Dec. 5-6., during a timed online auction.
The sale will include a limited offering of 17 tremendously bred embryos, weanlings, yearlings and broodmares, which will be available for bidding beginning at 8 a.m. Dec. 5 and close at 5 p.m. Dec. 6.
The three-day event will kick off with a preview of sale horses at the Lindy Burch Ranch in Weatherford, Texas, Dec. 4, from 8 a.m. to 3 p.m., located approximately 45 minutes west of the NCHA Futurity Show site in Fort Worth occurring at the same time.
The Oxbow Ranch has cultivated one of the most respected breeding programs in the western performance horse industry, producing hundreds of money earners, including multiple $100,000-plus careers. The success of the foals has stemmed in part from Oxbow Ranch owner, Lindy Burch's longtime emphasis on using top mares, like those included in the online sale event. Burch is a past NCHA Futurity and Open World Champion winner, and her combined show and breeding experiences have made her one of the most regarded figures in the cutting horse industry.
Four premiere mares will be among the 17 lots for sale. Those will include: Hip No. 1 – Bet Shes Smooth (Smooth As A Cat x Bet Yer Blue Boons by Freckles Playboy); Hip No. 5 – Adelle (Metallic Cat x Play Peek A Boon by Freckles Playboy); Hip No. 11 –Purdy Bet (Bet On Me 498 x Purdy Aristocrat by Smart Aristocrat), and Hip No. 14 – Sevens N Eights (Smart Little Lena x Bet Yer Blue Boons by Freckles Playboy).
Each of the mares have achieved accolades as top NCHA earners or dams of significant money earners. Bet Shes Smooth was the 2015 NCHA Futurity Reserve Champion as well as the AQHA World Champion Senior Cutting Horse and is the youngest daughter of Burch's famed, Bet Yer Blue Boons (Freckles Playboy x Royal Blue Boon by Boon Bar), also a World Champion. The mares will each have foals in utero or live foals included in the sale line up.
"It's as strong as it gets," said Jim Ware, owner of Triangle Sales. "The Oxbow program has produced incredible genetics resulting in many of the finest mares and greatest stallions of all time, and this is an excellent opportunity to purchase some of those genetics."
Metallic Cat, One Time Pepto, Bet Hesa Cat, Bets CD, Grays Starlight, Miss N Cash, Cattalou, Bet On Me 498, Smart Lil Ricochet, Paddys Irish Whiskey, Third Cutting, Gallo Del Cielo, Smart Like Juice – were all out of dams who wore the Oxbow brand.
Ware said he likes the opportunities that the timed, online sale format lends to buyers and breeders alike. Buyers can purchase at their convenience within the allotted timeframe. And the sale process provides an especially conducive environment for featured lots such as embryos.
"This sale concept may seem new to our customers—but a timed auction is really very similar to a silent auction," Ware said. "The Triangle Sales engine will be programmed through Auction Mobility, which customized specific needs for Triangle's online sales."
"We researched hard to find the method that we like," Ware continued. "We shared this with Lindy, and it was something that she wanted to pursue. We are going to continue to use this type of sale in the future. This could be a really great method for production sales and so many other things I have planned for the future."
Buyers can go to the Triangle Horse Sales web site at trianglehorsesales.net for details on how to participate. Contact Triangle Horse sales for assistance with hauling.