RACING THIS WEEK
FEATURES
SERVICES
Jet Wings One, already a two-time stakes winner at Los Alamitos, will face a talented quartet of mares in the running of the $24,684 Q-Racing Video California Distaff Challenge on Saturday, Los Alamitos.

© Scot Martinez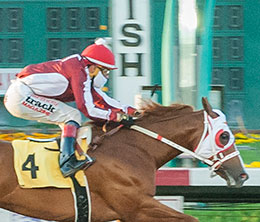 Ladies Time To Shine In Q-Racing Video California Distaff On Sunday Night
LOS ALAMITOS, CA—AUGUST 5, 2022— Connie Moon's Jet Wings One, already a two-time stakes winner at Los Alamitos this season, will face a talented quartet of mares in the running of the $24,684 Q-Racing Video California Distaff Challenge on Saturday, Los Alamitos.
On the line is a berth to the 400-yard Distaff final to be held on Bank of America Racing Challenge Championships at the Horseshoe Indianapolis on October 22. Jet Wings One has experience being a regional representative after winning the Adequan California Derby last year.
The Ec Jet One mare then traveled to The Downs at Albuquerque where she finished seventh in the $155,000 Derby final.
Bred by the late Dan Moon, Jet Wings One returned to California following her Albuquerque journey and has shined here this season.
She's won all three of her starts, posting wins in the Denim N Diamonds Handicap and the Miss Princess Handicap Handicaps, both times against AQHA champion aged mare Kiss Thru Fire.
Trained by Monty Arrossa, Jet Wings One will now start from post one in the California Distaff.
She'll take on Virginia Hyland Stakes winner Famous Shining Star, Check Her Twice Stakes winner In My Heart, Dashingly Stakes winner Jess Fortunate, and Elko Derby finalist Eyez Of Cartel.
These five sharp mares have combined to win nine of their 15 starts this year and have finished in the money in 12 of those outings.
* * * * * * * * * * * * * *
For more info, please contact larace@losalamitos.com. Follow us on Twitter or Instagram at @losalracing or visit us online at losalamitos.com.