RACING THIS WEEK
FEATURES
SERVICES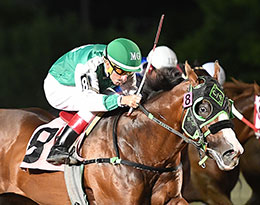 DALLAS, TX—NOVEMBER 22, 2020—Javier Rosique's Grade 2 winner Jordan Eagle, a son of leading sire
One Famous Eagle
, died Saturday from colic. The multiple stakes winner was scheduled to start in the $100,000 B.F. Phillips Stakes(RG3) at Lone Star Park Saturday night but fell ill earlier in the day. Bred in Texas by Weetona Stanley, Jordan Eagle won or placed in nine of 12 career starts and earned. $260,858. Conditioned by Alonso Neri, he made his first start in the Dash For Cash Futurity(G2) trial a year ago, qualifying and winning the Dash For Cash Juvenile Stakes. He finished his 2-year-old season with four consecutive wins including the Evangeline Downs Futurity. This season ...
---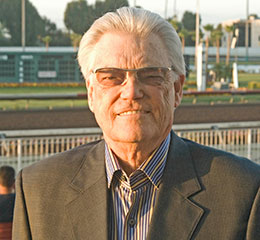 Q RACING—NOVEMBER 20, 2020—In the Quarter Horse racing world, Bobby Cox is a household name. The Fort Worth, Texas, resident has been running—and winning—with Quarter Horses since the 1970s. Currently an American Quarter Horse and Texas Horse Racing Hall of Fame member, Cox is adding another feather to his cap with the induction to the Texas Cowboy Hall of Fame in 2021. He is the third all-time leading breeder of racing Quarter Horses, and has bred more than 60 stakes-winning horses. Since 2000, Cox has earned more than $10 million as a racehorse owner, according to Equibase. In 2004, Cox was named AQHA champion owner, and ...
---
ADVERTISEMENT
---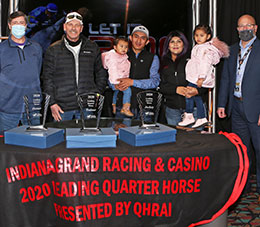 SHELBYVILLE, IN—NOVEMBER 09, 2020—It's been another stellar season for the Randy Smith Stable at Indiana Grand. The track's all-time leading Quarter Horse trainer earned his sixth straight title and those associated with his barn swept the other categories for Quarter Horse racing during the 2020 racing season. Horses from the Smith Stable won 54 races during the abbreviated 96-day racing season with total purse money in excess of $1.4 million. Both tallies eclipsed the records set by Smith during the 2015 racing season, which included 120 racing days, making the new records even more impressive. Smith also won seven races on the Saturday, Oct. 3 racing program, which matched ...
---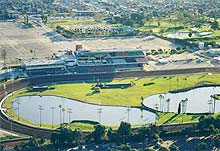 SACRAMENTO, CA—NOVEMBER 19, 2020—According to an article by Bryon King published today on
Bloodhorse.com
the California Horse Racing Board tabled a vote to approve the license for Los Alamitos Race Course until next month, pending the track's written plan to reduce the number of racehorses receiving ...
---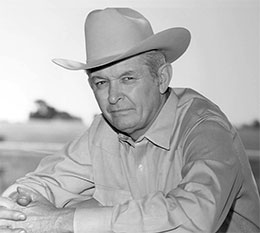 COLLEGE STATION, TX—NOVEMBER 17, 2020—A significant part of the West Texas A&M University campus that includes the Texas A&M Veterinary Education, Research, & Outreach (VERO) Building and the Texas A&M Veterinary Medical Diagnostic Laboratory (TVMDL) now bears the name of Texas A&M Distinguished Alumnus Dr. Charles W. "Doc" Graham '53, one of the world's top equine veterinarians. The naming of the Charles W. "Doc" Graham '53 DVM, The Texas A&M University System Center was recently approved during the Texas A&M University System Board of Regents' quarterly meeting. "Dr. Graham is held in such esteem around Texas and around the country for his brilliance in the field of equine ...
---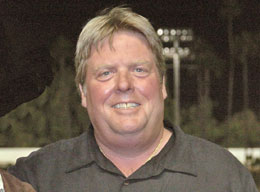 SACRAMENTO, CA—NOVEMBER 17, 2020—Darrel J. Vienna, a Bonsall, California based attorney, filed a formal complaint with the California Horse Board late Tuesday on behalf of Pat Guthrie, co-owner of multiple grade 1 winner Danjer. According to the complaint, Guthrie is seeking the intervention of the California Horse Racing Board as a result ...
---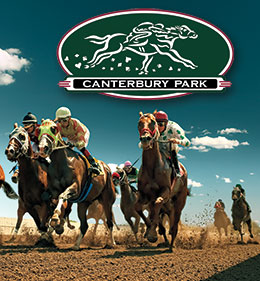 SHAKOPOEE, MN—NOVEMBER 16, 2020—Canterbury Park racing officials have submitted a request to the Minnesota Racing Commission for 65 racing dates in 2021 beginning May 18 and running through Sept. 16. With the request came the caveat that future impacts associated with the COVID-19 pandemic may necessitate an amendment to the request. ...
---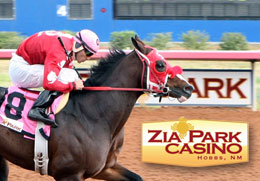 HOBBS, NM—NOVEMBER 13, 2020—New restricted COVID-19 restrictions announced today (Nov. 13) by New Mexico Gov. Michelle Lujan Grisham has forced "live racing" to be suspended at Zia Park through November 30. The New Mexico restrictions close in-person activities at nonessential businesses, including horse racing, from Nov. 16-30. The ...
---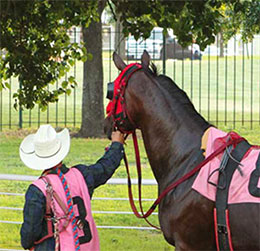 SELMA, TX—NOVEMBER 12, 2020—Retama will open in training center mode on Tuesday, Dec. 1, 2020 and continue through Thursday, April 15, 2021. Stalls are available at $8 per stall per day, with the opportunity for a 10 percent discount for payments made on time. Walkers and dorm rooms are available for an additional fee. The main dirt track ...
---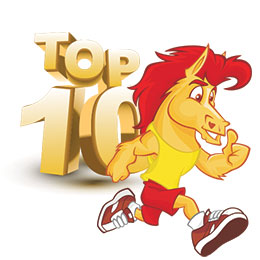 AMERICAN QUARTER HORSE ASSOCIATION—NOVEMBER 12, 2020—The biggest movers in the latest AQHA Racing National Polls were the winners of two recent million-dollar stakes at Los Alamitos Race Course, as Tell Cartel and Apollitcal Gold both debuted at No. 4 in their respective rankings. Tell Cartel, a 3-year-old colt by
...
---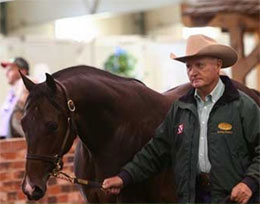 OKLAHOMA CITY, OK—NOVEMBER 12, 2020—Horsemen and women have until Friday (November 13) to consign horses for the 2021 43rd Annual Heritage Place Winter Mixed Sale. The 43rd annual Heritage Place Winter Mixed Sale will held January 14, 15 and 16th in Oklahoma City. The consignment fee is $650. "This sale has proven to be a great option ...
---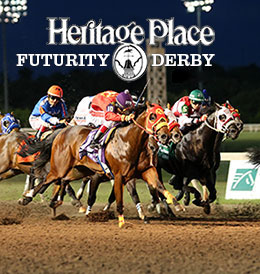 OKLAHOMA CITY, OK—NOVEMBER 11, 2019—Nomination for the $1,000,000-est. Grade 1 Heritage Place Futurity and the $250,000-est. Grade 2 Heritage Place Derby are due on or before Simdau, November 15th for both races scheduled for the 2021 Remington Park Quarter Horse Meeting. For foals of 2019, the $1,000,000-est Heritage Place Futurity(G1), the richest race run in Oklahoma, also offers a $100,000-Guaranteed Juvenile. Trials will be contested May 14-15 at Remington Park and the final and juvenile are scheduled for June 5th (dates are subject to OHRC approval). In addition all ...
---