RACING THIS WEEK
FEATURES
SERVICES
Jet Wings One, under jockey Armando Cervantes, winning the$24,684 Q-Racing Video California Distaff Challenge on Sunday at Los Alamitos.

© Amber Mendez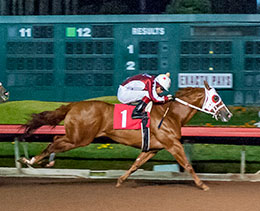 Jet Wings One Remains Undefeated In 2022, Wins The Q-Racing Video California Distaff Challenge
LOS ALAMITOS, CA—AUGUST 7, 2022— Making her first start since having to be scratched from the $100,000 Abigail Kawananakoa Stakes on June 12, Connie Moon's Jet Wings One looked as good as ever, as she led from start to finish to win the $24,684 Q-Racing Video California Distaff Challenge on Sunday at Los Alamitos.
Jet Wings One's impressive win earned her a berth to the Grade 1 Q-Racing Video Distaff Championship to be held at Horseshoe Indianapolis on October 22. The win also keeps the Idaho-bred's record perfect for 2022, as she's now won all four of her starts during her 4-year-old season.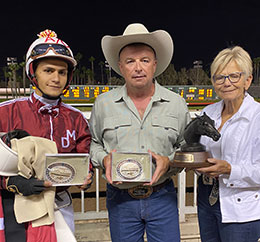 Armando Cervantes, Monty Arrossa and Linda Arrosa accept the Q-Racing Video California Distaff Stakes trophy at Los Alamitos.
© Orlando Gutierrez
Bred by Connie Moon's husband, the late Dan Moon, Jet Wings One came into this race having also won the Denim N Diamonds Handicap and the Miss Princess Handicap this season, both wins coming over the reigning AQHA Champion Aged Mare Kiss Thru Fire.
Their third meeting was scheduled for the Abigail Kawananakoa about two months ago, but it was not to be due to a setback Jet Wings One encountered.
"The morning of the race of the Abigail Kawananakoa, she had a lot of heat in a hind foot," said trainer Monty Arrossa. "She was slightly off. We didn't want to take a chance of running her. She's a super nice mare. It was heart breaking to scratch her, but it was the right thing to do for her. We soaked her and wrapped her foot. We worked on her foot, and I have to give a lot of credit to her groom, Alvaro Diaz. He's done a great job with her. She responded to the treatment.
"We got her back sound and she's trained well up to this race. We gave her a good 220-yard turn and work and she worked outstanding. Although it was a short field of mares, it was an outstanding field of mares tonight. I was proud of her. She's been off for a while and only had one work. I thought she ran a good race."
The mare by EC Jet One was excellent during the entire 400-yard race, leading by daylight right from the start and never looking back in route to a ¾ length win over Ginger Hyland Stakes winner Famous Shining Star.
Ridden by Armando Cervantes from post number one, Jet Wings One covered the distance in :19.876 while posting her seventh win from 11 career starts. She earned $12,835 for this effort to take her career earnings to $152,263.
Jet Wings One will now set her sights on the Grade 1 Mildred Vessels Memorial Handicap and another matchup with the talented Kiss Thru Fire, who went on to win the Abigail Kawananakoa. And of course, there's the Q-Racing Video Distaff Championship later in the year.
"I can't thank Dr. Allred, Cathy Monji, Scott Craigmyle and the management here at Los Alamitos. The mare program is second to none. It gives you a place to run older mares. She's had a great four-year-old campaign. We have a number of them now who are keeping their mares going. I'm very thankful to the management here for having such an outstanding program for the mares."
Arrossa also took the time to remember Dan Moon, a long time breeder and owner of outstanding Quarter Horses.
"It was devastating to lose Dan. They were a team for a long time. Connie has kept the ball rolling. She wanted to keep Dan's dream alive and it's her dream as well. She absolutely loves her horses and I know she's been pretty nervous, just as I've been pretty nervous, about (Jet Wings One). You don't get better people than Connie Moon."
Johnny Trotter's Famous Shining Star earned $5,678 for her runner-up effort in this race. The mare by One Famous Eagle has finished in the money in all five of her starts this season – all of them taking place against stakes competition.
Gentry Farms' In My Heart, a stablemate of Kiss Thru Fire, earned $2,838 for running third. Jess Fortunate and Eyez Of Cartel completed the field.
* * * * * * * * * * * * * *
For more info, please contact larace@losalamitos.com. Follow us on Twitter or Instagram at @losalracing or visit us online at losalamitos.com.