RACING THIS WEEK
FEATURES
SERVICES
Home
>
Preview Racing
>Spencer Childers, Governor's Cup Derby Headline Second Night Of California Breeders Champions Weeken
Ed Allred's Circle City will look to become only the third horse to win back-to-back runnings of the RG1, $100,000 Spencer Childers California Breeders Championship Handicap at Los Alamitos Race Course.

© Scott Martinez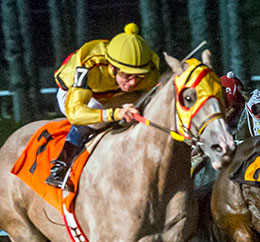 Spencer Childers, Governor's Cup Derby Headline Second Night Of California Breeders Champions Weeken
LOS ALAMITOS, CA—JULY 29, 2022— The second night of California Breeders Champions Weekend is set for Sunday night with an all-stakes Late Pick Four that will include the Restricted Grade 1, $100,000 Spencer Childers California Breeders Championship Handicap, the Restricted Grade 2, $175,000 Governor's Cup Derby, and the Restricted Grade 3, $40,000 Matron Stakes.
The Spencer Childers, Governor's Cup Derby, and Matron are all 400-yard stakes events. Sunday's 10-race program will get started at 7:30 p.m.
Ed Allred's Circle City will look to become only the third horse to win back-to-back runnings of the Spencer Childers, as he hopes to join AQHA World Champions A Ransom and Be A Bono in this exclusive club.
The classy gray was a ¾ length winner over stablemates Nomadic and Chocolatito in this race last year, and he's won the Grade 3 Kaweah Bar Handicap and finished third in the Grade 1 Brad McKinzie Los Alamitos Winter Championship this year. Scott Willoughby will saddle the multiple Grade 1 winner Circle City from post number four. Jesus Rios Ayala, who rode him to victory in last year's Spencer Childers, will pilot the son of Favorite Cartel.
Allred could repeat a top three sweep in the Spencer Childers, as he'll also be represented in this race by top contenders Monopolist and Up And Atem. Trained by James Glenn, Jr., Monopolist enters this race after posting a game second to AQHA champion 3-year-old Empressum in the Grade 1 Vessels Maturity on July 3.
Monopolist also finished second to Empressum in the Vessels Maturity trials, but a repeat effort of either of his 2022 races should see him contend for a top spot in the Spencer Childers. Oscar Peinado will pilot again here. Meanwhile, the Willoughby-trained Up And Atem ran solidly when dead heating for third in the Vessels Maturity final and has established himself as one of the top older horses at Los Alamitos after sitting out the 2021 racing season. Armando Cervantes will be aboard the Favorite Cartel gelding.
Other top names in the Spencer Childers include EG High Desert Farms' Bail Czech, who won this race in 2020, and Link Newcomb's Cattail Cove, a strong stakes performer who scored his first stakes win earlier this month in the Independence Day Handicap. Cattail Cove is a multiple Grade 1 stakes placed runner and finished second to Circle City in the Kaweah Bar earlier this year. S
teve Burns' Grade 1 Go Man Go Handicap winner You Can Run, who also won the Sprint Stakes during last year's California Breeders Champions Weekend, will be joined in this outstanding field by another winner from last year's California Breeders Champions Weekend in Vic3tory LLC's Other World, who took the Jens List Memorial Stakes. The field will also feature multiple stakes winner Mister Tornado and the graded stakes placed runner BF Outfoosed.
One of the big storylines in the Governor's Cup Derby is Allred's She Goes Up and her quest to become the first filly to sweep the Governor's Cup Futurity and Derby series since AQHA champion Corona Cash in 1997-98. She Goes Up will look to win both races from post number one, but at much different odds.
She was a big 28-1 longshot in the futurity last year but will now be the 2-1 favorite in the derby. Willoughby trains the Seperate Interest filly with Jonathan Roman looking to pilot her to victory in the Derby just like he did in the Futurity last year.
The top three finishers in last year's Governor's Cup Futurity will reunite in this year's derby. Allred's Watch Out, who was the runner-up in the $310,000 race for juveniles last year, and Five Livestock Company LLC's Favorite Honey, third in the Futurity last year, remain two of the top challengers in this race.
Valeriano Racing Stables, LLC's Sweet Dasha Fire, who ran second to She Goes Up in the trial and third to her in the La Pacifica Handicap, is among the other top contenders. Favorite Habit, Nevada Charles, Letty Cartel, Insider, Bizarrely, and Knockout Cartel will complete the field.
Gentry Farms' Kiss Thru Fire will look to continue her outstanding 2022 campaign, while looking to score a repeat victory in the $40,000 Matron Stakes. The reigning AQHA champion aged mare has won both the Grade 1, $100,000 Charger Bar Handicap and the $100,000 Abigail Kawananakoa Stakes this season to go along with a runner-up effort in the $50,000 Miss Princess Handicap.
Rios Ayala, who piloted the Juan Aleman-trainee to victory in the Kawananakoa, will retain the mount and will guide her from post number three. Top mares in this race include Haras Portofino's Rite On Time, winner of the Debutante Stakes on California Breeders Champions Weekend last year, and EG High Desert Farm's La Estrella Corona, who tied for third with Up And Atem when facing males in the Vessels Maturity. More Than Looks, Walking Alone, Up For You, Looks On Fleek round out the field.
Sophomore fillies will race in the $25,000 Debutante Stakes at 350 yards, a field that will be led by the Allred trio of Nymphette, an impressive recent winner in her career debut, Autumn Handicap winner Lovely Evening, and the solid Up To Good. Los Alamitos Oaks finalist La Beverly Hills, Freshman Stakes for Fillies winner Race Thru Fire, and the stakes placed Majority Interest are among the nine fillies in this race.
The Sunday's night action will also feature three trials to the $54,000 Los Alamitos Claiming Futurity at 350 yards. Twenty-two juveniles will be in action from races four through six with the horses with the 10 fastest times advancing to the final on August 21. Horses cannot be claimed out of the trials but are eligible to be claimed for $12,500 each in the final.
Trial participants include Dutch Masters III's Docs Best Woman, a half-brother to last year's Claiming Futurity winner Woman Secrets, plus maiden winners Stella Girl 47, Davids Last Patriot, Wishin And Hopin, and Twiggys Favorite, and Eternal Place.
Four of the five maiden winners will be in action in the last of three trials.
* * * * * * * * * * * * * *
For more info, please contact larace@losalamitos.com. Follow us on Twitter or Instagram at @losalracing or visit us online at losalamitos.com.