RACING THIS WEEK
FEATURES
SERVICES
Home
>
Preview Racing
>Party Politics, Hes Judgeandjury Head Full Night Of Trials To $1,884,225 Los Al Two Million Futurity
Party Politics could become the Los Alamitos Triple Crown winner if he can qualify for the $1,884,225 Los Alamitos Two Million Futurity(G1) on Sunday night at Los Alamitos Race Course.

© William Zuazo
Party Politics, Hes Judgeandjury Head Full Night Of Trials To $1,884,225 Los Al Two Million Futurity
LOS ALAMITOS, CA—NOVEMBER 18, 2022– Led by JGA Racing Stables Inc's Party Politics, the winner of the (G1) Ed Burke Million Futurity and (G1) Golden State Million Futurity, and Steve Holt and Jeff Jones' (G1) All American Futurity winner Hes Judgeanjury, a total of 107 juveniles will be in action during a full night of trials to California's richest horse race, the $1,884,225 Los Alamitos Two Million Futurity, Sunday night at Los Alamitos Race Course.
Twelve trials will be contested on Sunday with every trial except one featuring a nine-horse field. The 2-year-olds with the 10 fastest time will advance to the Los Alamitos Two Million final to be held here on Sunday, December 11.
The wagering menu for the 12-race program will offer three Pick Four wagers. The first four races will make up the early Pick Four sequence. Races five through eight will be the middle Pick Four and the final four races (9-12) will be the Late Pick Four sequence. First post is set for 5:15 p.m.
The big story of the night will be the Apollitical Jess gelding Party Politics as he'll look to stay on track to becoming the first juvenile to sweep the Ed Burke Million, Golden State Million and Los Alamitos Two Million Futurity, which are the track's million-dollar futurities.
Two juveniles, Higher and Fire in 2005 and Heza Dasha Fire in 2014, have been the closes to accomplishing the sweep with Higher Fire running second in the Two Million after winning the first two events. Heza Dasha Fire ran fourth in the Two Million after also winning the first two.
To be ridden by Ramon Sanchez, this track's all-time leading jockey, and trained by Juan Aleman in trial number 10, Party Politics has been a model of consistency in his five career starts.
A winner in four of those races, he's been able to find a higher gear the longer the race goes, a style of racing that was exemplified by his tremendous photo finish win over Rosenthal Ranch's Cyber Attack in the Golden State Million final on October 30.
Party Politics left the gate sharply from the outside post 10 before trailing Cyber Attack ¾ lengths at the midway points. That's when Party Politics went to work, chewing up on his rival's lead with each stride and catching in the final jump with a perfect last bob.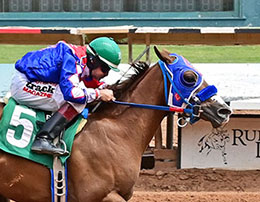 Hes Judgeandjury enters off a win in the $3 million All American Futurity (G1) at Ruidoso Downs.
© Bailey Ivey / Ruidoso Downs
"He's not the fastest horse early, but he has so much heart," Aleman said. "He'll just keep on coming and getting stronger and stronger. As I was watching the race unfold, I told my assistant, 'Hey, we're doing good. We're going to get a piece of it.' I didn't think we were going to catch Cyber Attack, but I was happy with the way my horse was running. Then, Party Politics started flying and I couldn't believe how strong he finished. Even after the first showing of the replay, I didn't think we got there, but then when they showed it again in super slow motion, I started thinking that maybe we got super lucky. It was a great race. This horse has already done more than I ever expected. It would be great to accomplish history and win the three futurities, but he doesn't owe us a thing. He's done so much already."
Aleman trained Party Politics' sire and dam.
"His sire, Apollitical Jess, is already one of the greatest sires of all-time and Party Politics' mother, Shanachee, was small in stature but she was all heart as well. I've trained all her sons and daughters and they've all been very good runners. None have done what Party Politics has accomplished, but they've all done well."
In the 10th trial, the $857,555 earner Party Politics, who is bred by J. Garvan Kelly, will take on a William Smith's Political Royalty, who performed excellently while finishing third in the Golden State Million final.
To be ridden by Rodrigo Sigala Vallejo and trained by Heath Taylor, the homebred Hes Judgeandjury will make his Los Alamitos debut in trial number four while making his first start since winning the $3 million All American Futurity.
A winner of $1,705,000 in his six-race career, Hes Judgeandjury qualified to all three major futurities at Ruidoso Downs this summer. In addition to winning the All American, he was third in the $1 million Ruidoso Futurity and fifth in the Grade 1 Rainbow Futurity.
Sired by Hes Relentless, Hes Judgeanjury is a half-brother to AQHA champion and multiple Grade 1 winner Empressum. He'll enter this race after a very professional 350-yard turn and work under the lights in :17.2 at Los Alamitos.
In addition to saddling Hes Judgeandjury in the fourth trial, Taylor will also saddle in these trials the second and third place finishers in this year's All American. Has there ever been a trainer to have the top three finishers in an All American Futurity running in his/her barn at the same time?
One thing is for sure and that's that Taylor currently does, as he'll send out Valeriano Racing Stable's Sicario V, who flew late to earn second place in the All American, as well as Holt, Cox, Powers, and Moore's Chasin AJ, who ran a strong race while finishing third to Hes Judgeandjury in the All American. Sicario V will headline the eighth trial of the night, while Chasin AJ will be in action in trial number 12 against a field that will feature Dunn Ranch's Ed Burke Million runner-up Aint He Tempting.
The previously mentioned Golden State Million runner-up Cyber Attack, a full-brother to Champion of Champions finalists Bomb Cyclone and Powerful Favorite, returns to action in these trials and will headline the 11th trial.
To be ridden by Eduardo Nicasio and trained by Chris O'Dell, Cyber Attack has been incredible in his last two trial races, winning his Rainbow trial by 2 ¾ lengths before winning his Golden State trial by 2 ¼ lengths. P&J Racing LLC's AJ Born Runnin and Grant Cox Revocable Trust's Flash Of Gold, a pair of Golden State Million finalists, will also be in action in the 11th trial.
The lineup of juveniles in the Two Million trials is as deep and talented as ever over the 27-year history of this great race. Here's a rundown of some of the stars in this outstanding group:
The opening trial will be led by Steve Burns' Temple Court, who ran fifth in the Golden State Million final, and Mauricio and Miguel Gallegos' Powerful, who was part of the Ruidoso Futurity field.
Temple Court is a full sister to Cyber Attack, while Powerful's dam, Remember The Rose, is a full sister to AQHA Dam of Distinction Remember Me Rose, the mother of Cyber Attack, Temple Court, and trial two participant So So Beautiful. Stakes winners Bold N Brave, owned by Carmen Villalobos, and Ed Allred's Space Flight will also race in the first trial.
The second trial will include Jeryl Hartley's Ah Sigh Stakes winner Hes Chickless, while the third heat will include Buckway Ranch's All American Futurity trial winner Doctor Schecter. Bobby Cox's Jeriko, who made a huge late run to finish a game fourth in the Golden State Million, will face George and Ruben Villalobos' Governor's Cup Futurity runner-up Required First in trial number five.
The top contenders in the sixth trial include Larry and Bobbie Rice's R Ladys Dynasty and Amestoys and Beasley's Out Of The Way, both winners in the Golden State Million trials, while Clanfield Act Stables' Governor's Cup Futurity winner Frivolous will lead the way in trial seven.
Sicario V is the big name in trial eight, while the ninth trial will feature Alfredo Alonzo and L. & R. Martinez's Hay Shaker, who ran sixth in the Golden State Million final. He'll face Steve Burns' two-time futurity finalist Turbeau and Johnny Trotter's stakes finalist A Revenant Lady.
* * * * * * * * * * * * * *
For more info, please contact larace@losalamitos.com. Follow us on Twitter or Instagram at @losalracing or visit us online at losalamitos.com.