RACING THIS WEEK
FEATURES
SERVICES
Sonrias Trials will host its 6th annual Buckles and Pearls Fundraiser in San Angelo, Texas on May 1.

© Sonrias Trials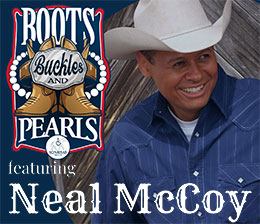 American Quarter Horse Stallion Services Available Through 6th annual Buckles and Pearls Fundraiser
SAN ANGELO, TX—APRIL 27, 2021—
Sonrias Trials, a non-profit organization offering therapeutic horseback riding to those with physical, mental and emotional challenges through a carefully structured program of equine activities, will host its 6th annual Buckles and Pearls Fundraiser, brought to you by Sonora Bank on May 1 at the 1st Community Federal Credit Union Spur Arena in San Angelo, Texas.
Doors will open at 6:00pm and the evening will feature a delicious dinner, drinks, and dancing to the music of country singer superstar Neal McCoy. There will be an opportunity to take part in games, a silent and live auction, as well as the chance to win some fantastic prizes.
Breeding's to 11 American Quarter Horse stallions will be part of a silent auction for the 2021 fund raiser. They include:
Frenchman's Fabulous
BP Wagon Train
Gone To The Mountain
Brace For Bernal
Interested bidders can CLICK HERE for additional information or to place a bid.
Sonrias Trials' continue to provide services to those that need it most because of financial backing from individuals and businesses who are invested in the health and wellness of the community.
"With you by our side, we are sure to achieve this season's fundraising goal and serve the Concho Valley well," Erin Inman, Donor Relations Coordinator, said this week.
Anyone who would like to become an official event sponsor, or would like more information regarding tickets, please reach out to Inman at 979-676-0657 or email at einman@sonrisasriding.org or call the Sonrias Trials' office at 325-949-4837.
Tickets are also available for purchase on the origination's website at sonrisasriding.org, or by CLICKING HERE.