RACING THIS WEEK
FEATURES
SERVICES
Adding 100 stalls and 50 dormitory rooms, Indiana Grand Racing will be able to accommodate nearly 1,200 horses when the project is completed.

© Coady Photography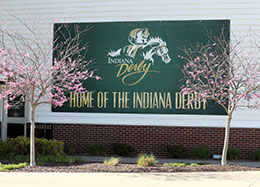 Indiana Grand Racing & Casino to Break Ground on $7 Million Barn and Dormitory Expansion
SHELBYVILLE, IN—APRIL 27, 2021—
Caesars Entertainment, parent company of Indiana Grand Racing & Casino in Shelbyville, IN, announces plans today to significantly expand the property's barn and dormitory facilities.
The addition will allow for more flexibility and state-of-the-art offerings as the 19th season of Thoroughbred and Quarter Horse racing approaches. The $7 million investment project will include a new 100-stall barn and a 50-room dormitory, increasing stall space on the backstretch to accommodate nearly 1,200 horses.
News of this expansion comes on the heels of Indiana Grand's recent announcement of its $32.5 million investment to grow and enhance the existing casino gaming floor. The barn and dormitory project should be completed in the fall of 2021.
"Each year, we turn many stables away because we just don't have the stall space for them," said Eric Halstrom, Vice President and General Manager of Racing at Indiana Grand Racing & Casino. "As our racing continues to grow at the national level, we receive even more requests to race at our facility. This addition will further solidify Indiana Grand's as a premier racing destination."
The new 100-stall barn, modeled after the Quarter Horse barn, built in 2014 at Indiana Grand, will be enclosed and winterized with three large sliding doors on both sides of the barn. The structure will include 10 wash bays, two restrooms and 10 tack rooms.
The dormitory will include 50 additional rooms in a two-story structure next to the new barn. The facility will provide housing for those who care for the additional horses, featuring community bathrooms for both men and women, central air and heat, and a laundry facility on both floors. Both structures will be located on the west side of the current backstretch area.
"Adding another barn will only strengthen our current program at Indiana Grand and build upon Caesars Entertainment's growing position as a leader in sports and entertainment," said Joseph Morris, Vice President of Racing for Caesars Entertainment. "This project is another example of how Caesars Entertainment is investing in the horse racing industry in the state of Indiana."
Work should begin in early May on the project. The construction site will be fenced off from the existing barn area to provide safety and security to the current horse population at Indiana Grand.
* * * * * * * * * * * * * * * * * * *
The 19th season of Thoroughbred and Quarter Horse racing is now in progress and continues through Monday, Nov. 8. Live racing will be conducted at 2:25 p.m. Monday through Wednesday with first post on Thursday set at 3:25 p.m. (EDT).
In addition, six all-Quarter Horse racing dates are set on select Saturdays starting June 5 at 10 a.m. A special Indiana Champions Day highlighting the state's top Thoroughbred and Quarter Horses will be held Saturday, Oct. 30 beginning at 12 p.m. More information about the 2021 racing season is available at www.IndianaGrand.com.
* * * * * * * * * * * * * * * * * * *
About Indiana Grand Racing & Casino
Indiana Grand Racing & Casino, which is owned and operated by a subsidiary of Caesars Entertainment Corporation (NASDAQ: CZR), holds multiple awards for customer service, entertainment, gaming, dining, and diversity. Located in Shelbyville, Ind., Indiana Grand features more than 2,100 of the latest slots and table games in addition to a one-mile dirt racecourse and a seven-eighths mile turf course providing live Thoroughbred and Quarter Horse racing each year. Simulcast and sports wagering is also offered year-round at Winner's Circle Race Sports Pub located on the casino floor as well as a Winner's Circle Race Sports Pub located in Clarksville, Ind.For more information, please visit www.IndianaGrand.com.
Must be 18 or older to wager on horse racing at racetracks and 21 or older to gamble at sports books and casinos. Know When To Stop Before You Start.® Gambling Problem? Call 1-800-9-WITH-IT (1-800-994-8448) ©2020 Caesars License Company, LLC.