RACING THIS WEEK
FEATURES
SERVICES
Oklahoma's Attorney General Mike Hunter filed a federal lawsuit Monday to try and get the Horseracing Integrity and Safety Act (HISA) voided for alleged constitutional violations.

© OAG.OK.GOV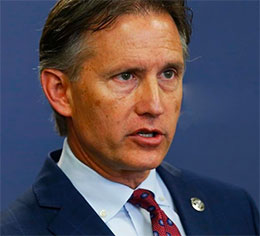 Oklahoma Attorney General Files Lawsuit Challenging Horseracing Integrity and Safety Act
OKLAHOMA CITY, OK—APRIL 27, 2021—
A federal lawsuit spearheaded by the state of Oklahoma to try and get the Horseracing Integrity and Safety Act (HISA) voided for alleged constitutional violations was filed Monday.
There are now two active legal challenges in the United States court system attempting to derail the regulatory powers of the HISA "Authority" prior to that regulatory body's planned 2022 phase-in.
According to a press release issued by the Oklahoma attorney general's office, the suit is challenging that "HISA gives a private corporation broad regulatory authority over Oklahoma's horse racing industry, and does so with no funding mechanism, forcing the financial burden onto states. If a state refuses to pay, the state's legislature and executive agencies would be punitively banned from collecting taxes or fees to enforce their own state regulations."
The complaint demanding declaratory judgment and injunctive relief was filed Apr. 26 in United States District Court (Eastern Division of Kentucky) even though most of the plaintiffs are based in Oklahoma or West Virginia. The lawsuit's timing coincides with the start of the GI Kentucky Derby week festivities in that state.
Oklahoma and its racing commission have been joined as plaintiffs by West Virginia and its racing commission.
Remington Park, Will Rogers Downs, Fair Meadows, Oklahoma Quarter Horse Racing Association, U.S. Trotting Association, Hanover Shoe Farms, a Pennsylvania Standardbred breeding entity, are also plaintiffs.
The defendants are the United States of America, the HISA Authority, and six individuals acting in their official capacities for the Federal Trade Commission (FTC).
"HISA grants the Authority broad regulatory power, yet the Authority is unaccountable to any political actor," the complaint states. "The Authority has the exclusive power to craft regulations relating to doping, medication control, and racetrack safety in horse racing.
"HISA relegates the FTC to a ministerial role in which it is required to approve and issue certain of the Authority's regulations so long as they are consistent with HISA and 'applicable rules approved by the Commission.' And no federal official can remove the members of the Authority's Board of Directors. HISA thus delegates to a private body the full coercive power of the federal government while simultaneously making it completely unaccountable to the people.
"After creating this vast new federal regulatory structure and delegating it to a private corporation, Congress disclaimed any responsibility for funding the Authority itself. Instead, it forced the funding responsibility onto the states, imposing on them the choice of either funding the Authority with state funds or, if a state refuses, collecting fees directly from racing industry participants in that state while punishing the state by banning it from collecting similar taxes or fees itself."
The complaint summarizes: "Plaintiffs…pray that this Court: 1) declare that HISA violates the U.S. Constitution on its face and is therefore void; 2) enjoin the defendants from taking any action pursuant to HISA; and (3) award nominal damages."
Some of the FTC defendants in this new lawsuit overlap with those named in a March lawsuit over alleged non-constitutionality filed by the National Horsemen's Benevolent and Protective Association and some of that organization's individual state members.
Oklahoma Attorney General Mike Hunter said, "If allowed to go into effect, this act will harm states like Oklahoma that have a robust equestrian industry.
"Additionally, the HISA disregards foundational law within the Constitution, including the Tenth Amendment. Congress cannot force a state legislature to either appropriate dollars for a private corporation, like [HISA], or be banned from passing legislation imposing certain taxes or fees. That puts Congress in control of state branches of government, which violates the law.
"Oklahoma already has government oversight in place through the Oklahoma Horse Racing Commission, which does what the federal government seeks to take over and give to a private corporation completely unaccountable to Oklahoma voters," Hunter says.