RACING THIS WEEK
FEATURES
SERVICES
Kelly Heltzel Perez has been summarily suspended by the Board of Stewards at Remington Park.

© StalioneSearch / Greg Thompson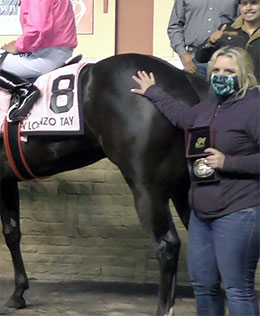 Trainer Kelly Heltzel Suspended Following Clenbuterol Positive On Remington Park Futurity Winner
OKLAHOMA CITY, OK—APRIL 30, 2021—
The Board of Stewards at Remington Park issued a summary suspension of trainer Kelly Heltzel Perez effective yesterday (April 29th) after a urine sample collected from Remington Park Futurity(RG1) winner San Lorenzo Tay was returned as positive, for the prohibited substance Clenbuterol, from Industrial Laboratories in Colorado.
On Thursday (April 29) the Board of Stewards at Remington Park determined that the public health, safety, and welfare is at risk because Clenbuterol is a prohibited substance with no acceptable threshold level for Quarter Horses, Paints, and Appaloosas which can affect the performance of a horse and potentially affect the welfare of the betting public, other licensees and horses in his care.
In letter sent to Heltzel Perez Thursday, pursuant to OAC 325:70-1-20. Summary Suspension of Occupation Licensee, the Remington Park Board of Stewards finds that the public health, safety, and welfare is at risk and requires emergency action. Therefore, Kelly Perez, is hereby summarily suspended effective Thursday, April 29, 2021, and continuing pending a hearing and final determination.
During the term of her suspension, Perez is denied access to the enclosures of all racetracks, including the public areas coming under jurisdiction of the Oklahoma Horse Racing Commission.
This matter is set for a Show Cause Hearing on the May 5th at 9 a.m. in the Board of Stewards' Office, Remington Park.
San Lorenzo Tay, a son of multiple stakes sire Ivory James, is owned by Rogelio Marquez, Jr. He is a $67,000 Heritage Place Yearling Sale graduate from the First Down Dash mare Shes Dashin First. San Lorenzo has won three-of-three starts at Remington Park this season and earned $392,482.