RACING THIS WEEK
FEATURES
SERVICES
Grants Pass Downs is hoping to add Historical Racing machines to the track's wagering menu. Grants Pass Downs' 19-day spring meet runs from May 10-July 14.

© Vince & Linda Williams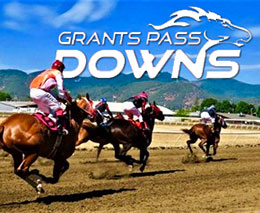 Grants Pass Downs Set To Open Live Meet May 10
GRANTS PASS, OR—MAY 1, 2020—
Grants Pass Downs will open its 2021 spring season Monday, May 10th, the 17-date race meet will run through July 6.
The track, which is coming off a fall meet that broke records for total wagering and field size, starts racing May 10. The season will feature Monday and Tuesday racing at 5:15 p.m. (MDT), with the exception of a Sunday card on July 4 that will start at 1 p.m. (MDT).
Randy Evers, track president, said an update regarding fan attendance due to COVED-19 restrictions and Josephine County's "Extreme Risk" status will be released next week. Despite challenges presented by the pandemic, Grants Pass Downs is thriving.
The 16-day fall 2020 meet, the track's most successful as a commercial entity, Grants Pass averaged 8.03 starters per race and exceeded $6 million in handle, including a record $868,632 on closing day.
"We were absolutely elated, we couldn't have been happier with the season," racing secretary John Everly said in a release announcing the upcoming schedule. "Grants Pass is doing everything possible to make horse racing successful. It's so refreshing being around people who want to grow the sport."
Grants Pass Downs has undergone several significant upgrades with its racing surface and facility, including a state-of-the art safety rail and a widened racing surface to accommodate 10 horse fields. Beginning this season, a new chute will make it possible for six-furlong Thoroughbred and 440-yard Quarter Horse races.
All 450 on-track stalls are expected to be occupied by opening day, while long-term plans call for a new off-track training and equestrian center to be built nearby. Steve Wood, longtime track superintendent at Santa Anita Park in California, is overseeing development of the training center.
The initial quarter horse stakes, the $15,000 Mail Tribune Handicap will be run on May 17.
Grants Pass will host three AQHA Racing Challenge events this season. The $40,000-added Bank of America Grants Pass Championship Challenge (June 28), $30,000-added Adequan© Grants Pass Derby Challenge (July 5) and the $20,000-added Q Racing Video Grants Pass Distaff Challenge (May 25) will contested the Oregon track in 2021.
The 2021 live racing dates:
MAY
Monday, May 10; Tuesday, May 11; Monday, May 17; Tuesday, May 18; Monday, May 24; Tuesday, May 25; Monday, May 31
JUNE
Tuesday, June 1; Monday, June 7; Tuesday, June 8; Monday, June 21; Tuesday, June 22; Monday, June 28; Tuesday, June 29
JULY
Sunday, July 4; Monday, July 5; Tuesday, July 6
For additional information visit the track's website at gpdowns.com.