RACING THIS WEEK
FEATURES
SERVICES
Stall applications for the 2021 Lone Star Park Quarter Horse meet are due Monday, August 2.

© Lone Star Park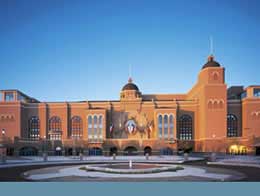 Lone Star Park Quarter Horse Stall Applications Due August 2
GRAND PRAIRIE, TX—JUNE 9, 2021—
Stall applications for the 2021 Lone Star Park Quarter Horse meet are due Monday, August 2.
The 2021 Fall Quarter Horse Meeting is set to open September 17th and run thru December 18th.
The Lone Star Park Quarter Horse meet will feature Friday and Saturday night racing in September, October, November, and into the first weekend of December. The final two weekends of racing will offer Thursday, Friday and Saturday night cards of racing.
Highlights will again include the Grade 1 Refrigerator Handicap, Grade 1 Texas Classic Futurity and Texas Classic Derby and Grade 2 Dash For Cash Futurity and Derby.
"We are expecting all of the top horsemen in the Quarter Horse industry to come and compete at the fall meet at Lone Star Park," said Racing Secretary Matt Crawford. "We have a great lineup of stakes events, as well as very healthy purses to offer each race day starting in September. We are envisioning a large amount of stall requests for the upcoming meet, and look forward to hosting some great racing this coming fall."
CLICK HERE to download a 2021 Lone Star Park stall application.
Stalls will be assigned only to horses listed on the application and the latest Daily Racing Form Past Performances on all horses must be included with applications. Horsemen are also reminded they must sign the applications.
For additional information call the Racing Office at 972.237.1130 or email Matt Crawford at matt.crawford@lonestarpark.com.