RACING THIS WEEK
FEATURES
SERVICES
A "Celebration of Life" is planned Saturday, July 17th to honor longtime Oklahoma horsewoman Jean Dillard.

© Dillard Ranch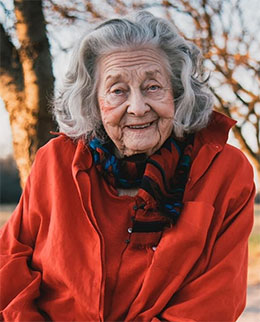 Longtime Oklahoma Horsewoman Jean Dillard Passes
RINGLING, OK—JULY 12, 2021—
Longtime Oklahoma horsewoman Dona Jean Luttrell Dillard (Jean) passed away at her beloved ranch in Ringling, Oklahoma on July 11 after a lengthy illness
A "Celebration of Life" will be held Saturday, July 17th at the Dillard Ranch, 32717 E US Highway 70, Ringling, Oklahoma 73456. At her request her ashes will be scattered over the "pastures with her beloved mares."
Jean was born to Wyeth and Margret McKenzie Luttrell on June 16, 1927, in Dickinson, North Dakota. She first moved to Oklahoma with her parents who bought a ranch in Skiatook Oklahoma. She attended Monte Casino Catholic Girls School in Tulsa. Jean attended Oklahoma A&M now Oklahoma State University), where she met her husband James Houston Dillard.
Married in 1947, they returned to Jefferson County Oklahoma. Two years later, James and Jean purchased the existing home place ranch from his mother, who retained her home for the duration of her life.
They continued adding to their ranch and family, building a home just east of the old home place on Highway 70, where Jean lived the remainder of her life.
Six daughters were born to James and Jean: Elizabeth Jamie (Lam, passed away in 2008), Desiree, Davy, Seane and Kateri. Each helped with the ranch throughout the years in different capacities.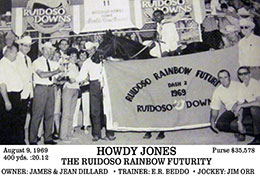 James and Jean Dillard won the 1969 Rainbow Futurity Consolation at Ruidoso Downs with their homebred champion Howdy Jones.
© 1969 Ruidoso Downs
James preceded Jean in death. December 27, 1978, at the age of 53.
Jean was always very hands on in all aspects of her ranching and racehorse breeding operations.
She learned early in life how important it was for a racehorse to be nurtured by a natural horseman in a small stable with lots of personal attention.
She recognized trainer Blane Schvanevelt for those talents early in his career and later placed horses with trainer Bobby Turner for the same reasons.
Jean tirelessly oversaw every detail of her beloved racehorses life, from planning the mating, to foaling, to weaning and all the way through to racing with her hand-picked trainer.
In a predominantly male oriented business, very few women reached the level of success Dillard maintained with her racehorses.
The couple had also began breeding racing Quarter Horses in the 60's, starting with their foundation mare Miss Breeze Bar, a 1962 daughter of Breeze Bar out of the Thoroughbred mare Clampitt by Depth Charge.
Jean (white coat) with See Me Do It after winning the All American Derby(G1) at Ruidoso Downs.
Her first foal Howdy Jones won the 1969 Rainbow Futurity Consolation at Ruidoso Downs and became a three-time AQHA Racing Champion for the couple.
They also bred, from Miss Breeze Bar, the multiple stakes winner and stakes sire Fast Jet, a son of Jet Deck; Los Alamitos stakes winner and multiple stakes sire Real Thing by Easy Jet; stakes winner Howdy Sis, a full-sister to Fast Jet; as well as two multiple stakes producing daughters by Azure Te, Missy Te and Soul Baby.
Jean took over the reins following James death and continued the Miss Breeze Bar legacy with such stakes horses as Lota Soul, Soul What, Buzz Te, Soul Bug, Jd Phantom, The Advance Man and Heavenly Nights, to name on a few. AQHA Hall of Fame trainer Blane Schvaneveldt trained many of her horses on the West Coast.
In 1986 a small filly from the first crop of All American Futurity(G1) winner On A High arrived at the Dillard Ranch. She was the first foal from an unraced Easy Six mare Rita Seis, a granddaughter of Miss Breeze Bar, that Jean named See Me Do It.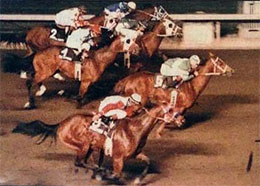 Jean Dillard's homebred See Me Do It winning the 1989 Champion of Champions at Los Alamitos Race Course.
She began her 2-year-old year in 1988 at Blue Ribbon Downs in Sallisaw, Oklahoma, under trainer Bobby Turner and jockey Larry Layton. See Me Do It won her first three starts including the Oklahoma Futurity – Spring Division-G3. She then traveled to Ruidoso winning two trials for the All American then returned to finish second by the narrowest of margins to Merganser in the Grade 1 All American Futurity.
In 1989 the filly posted a perfect 6-for-6 season with wins in the Champion of Champions(G1), All American Derby(G1) and Rainbow Derby(G1), collimating in her being named AQHA Racing World Champion, Champion 3-Year-Old and Champion 3-Year-Old Filly. In four years at the track, she won 27 of 24 starts and earned $913,464.
In 1987 Jean bred-and-raised a Thoroughbred bred son of Boco Rio named Darrell Darrell. He raced six years totaling 23 wins and 11 stakes victories. He earned $591,646. Among his biggest stakes wins are the $100,000 Arapahoe Park Sprint S. (twice) and the $75,000 Centennial Handicap.
He also won the eight stakes at Remington Park including the Oklahoma Stallion Stakes, Remington Park Sprint Championship Handicap, and Oklahoma Classics Day Sprint, to name only a few. In 1992, 1993 and 1995 Darrell Darrell set track records at Remington Park for 5, 5-1/2 and 7 furlongs.
Longtime Texas trainer Sam Howard has run many horses with Jean and helped her keep the ranch going over the last 10 years. He was considered family by her.
Just a week before Jeans passing she was inquiring "who are we breeding to?"
She was very interested in breeding and loved her mares dearly. She bred to many of industry's top stallions to include Jet Deck, Azure Te (TB), Easy Jet, Easy Six, Hempen (TB), Pass 'Em Up (TB), Casady Casanova, On A High, Super Sound Charge, Special Effort, Separatist, Strawfly Special and many, many more!
Jean was preceded in death by her husband James, daughter Jamie, grandson James Wyeth Britain, her parents, her sister Mary Elizabeth "Jon" Luttrell, her aunt Mary Ellen McKenzie Berg and many close and dear friends.
Surviving Jean are her daughters: Elizabeth, Desiree, Davy, Seane and Kateri. Sons-in-law: Ray Madewell and Thomas Jones. Grandchildren: Edgar Charles "Sage" Britain IV ( Lacey), Jamie Kathryn "Katie" Britain Dixon (Chris), Jessica McKenzie Underwood, Jess W. Lam, Jean Margret Lam, Sidney Houston Jones and Tomi Thompson Buske (Dylan). Great-grandchildren: Edgar Charles "Cash" Britain V, Brady Case Britain, Hatlie Tate Dixon, Canyon Reed Dixon, and Jack Houston Carol Buske.
* * * * * * * * * * * * * * *
Courtesy AQHA:
As a
BREEDER
, since 1991,
JEAN DILLARD
: 2,682 starts • 422 wins (30sw) • 336 seconds (32sp) • 320 thirds (26sp) Earnings:
$4,255,119
.
STAKES WINS:
2017 JD WAGON BOSS, $24,120 Evergreen Park Juvenile Challenge
2011 NOCONA MAFIA, $30,500 Boyd Morris Memorial Handicap
2010 NOCONA MAFIA, $35,000 Oklahoma Bred Championship Rg3
2005 CAME UPON ME $8,491 Northwest QH Breeders' Society Derby
2004 JD PHANTOM, $11,000 North Dakota Horse Park Maturity
2002 JD PESKY, $11,365 Jack Clifford Stakes
2002 JD FAX ME, $11,700 Bob Morehouse Memorial/Cash Caravan Stakes
2000 JD FAX ME, $49,860 Oklahoma Derby Challenge G3
1998 BEERFORBUZZ, $10,000 Pony Express Stakes
1996 JUST LUTHER, $19,900 Canterbury Park Derby
1995 LOOKIN FOR ME, $27,217 Black Gold 330 Futurity
1993 NICOTINE 1988, $20,000 Pat Hyland Memorial Handicap G3
1990 SEE ME DO IT, $100,000 World's Championship Classic G1
1990 SEE ME DO IT, $79,930 All American Gold Cup G1
1989 SEE ME DO IT, $398,232 Rainbow Derby G1
1989 SEE ME DO IT, $330,813 All American Derby G1
1989 SEE ME DO IT, $200,000 Champion Of Champions G1
1988 SEE ME DO IT, $83,661 Oklahoma Futurity - Spring Div G3
1986 HEAVENLY NIGHTS, $121,433 Oklahoma Futurity - Spring Div
1985 THE ADVANCE MAN, $27,701 Sunshine Ranch Stakes
1984 THE ADVANCE MAN, $134,878 JAL Ranch Futurity
1982 SOUL WHAT, $54,100 Las Ninas Handicap
1976 REAL THING, $7,290 Jet Deck Stakes - 1st Div
1975 HOWDY SIS, $8,700 Debutante Handicap
1971 FAST JET, $7,800 Lubbock Downs Spring Derby
1970 HOWDY JONES, $14,170 South Texas Derby
1970 HOWDY JONES, $7,200 Bluegrass Championship
1970 HOWDY JONES $3,511 Los Dos Laredo Derby
1970 FAST JET, $28,574 Lubbock Downs Spring Futurity
1969 HOWDY JONES, $39,897 Laredo Casa Blanca Futurity